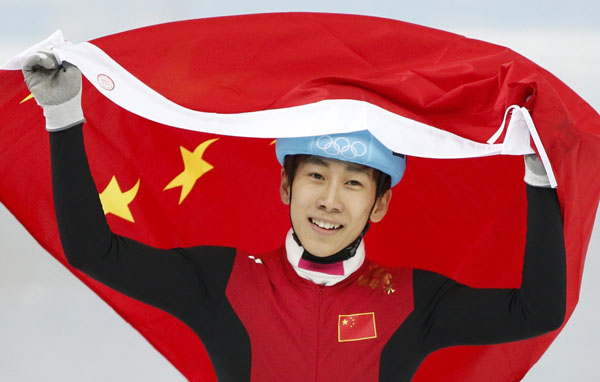 China's Tianyu Han celebrates his second-place finish in the men's 1,500 metres short track speed skating finals event at the Iceberg Skating Palace during the 2014 Sochi Winter Olympics February 10, 2014. [Photo/Agencies]
SOCHI - China claimed its first medal at the Sochi Olympics on Monday thanks to heroic performance by a teenage duo in the men's 1,500m short track speed skating, which was won by Canada's Charles Hamelin.
Han Tianyu clocked two minutes and 15.055 seconds to finish second in Final A, trailing eventual champion and world No. 1 Hamelin by 0.70 seconds.
"Since it's my first Olympic Winter Games, I'm a little bit nervous and didn't think very much," said Han. "I had never thought I could make it to the finals, let alone stand on the podium. I took every round as my final, and tried my best to compete." The 17-year-old, ranked 11th after the 2013-2014 season, equaled the best ever result by a Chinese men's short tracker at the Olympics.
His teammate Chen Dequan, 18, finished fifth in 2:15.626.
Victor An, who collected the men's 1,000m, 1,500m and 5,000 relay titles for South Korea at the Turin Winter Games in 2006 and now represents Russia in Sochi, had to settle for a bronze in 2:15.062.
Due to an injury that nearly ended his career, An, now 28 years old, had skipped the 2010 Olympics in Vancouver. An, going by the name Ahn Hyun-Soo when he represented South Korea, is the second winter Olympian to win medals for two different NOCs that are not politically or constitutionally linked.
Speed skater Bart Veldkamp won medals for the Netherlands and Belgium.
Hamelin, 29, won his third career Olympic title in short track and equaled Marc Gagnon's Canadian record of three golds in this sport. Hamelin's other titles were from the men's 500m and 5,000m relay at the 2010 Vancouver Games.
His younger brother Francois Hamelin, a men's 500m silver medalist and member of the title-winning Canadian relay team in last Games, qualified for Final B and finished second in that category in 2:21.592.
Han and Chen, both from northeast China's Liaoning province, surprisingly reached the final, with Han beating An by 0.142 seconds in the semis.