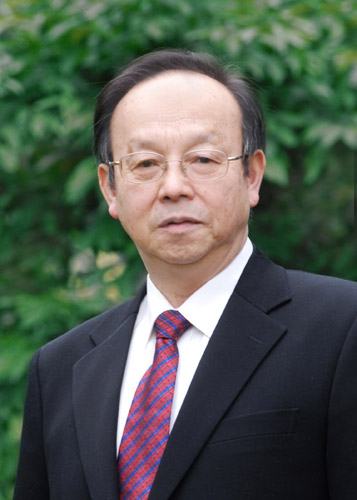 Zhang Xingdong, Chinese biomaterial scientist. [Photo/China Daily]
Regenerating damaged tissue with biomaterials was once seen by scientists the world over to be in the realm of fantasy.
But a major breakthrough in 1990 saw it become reality when Chinese scientist Zhang Xingdong published his findings called "Tissue Inducing Biomaterials". This led to innovative therapies for the musculoskeletal system, which enables humans to move, and also spurred the development of new biomedical materials.
After the breakthrough, Zhang achieved worldwide recognition and received numerous honors, the latest coming from the US National Academy of Engineering.
Earlier this month, the academy announced its newly elected 67 members and 11 foreign associates, with Zhang being the sole Chinese foreign associate named.
The members of the academy, founded in 1964, are elected by their peers in recognition of contributions to engineering research, practice or education; for pioneering new technologies; or making major advances in traditional fields of engineering.
Membership in the academy is considered to be among the highest of honors in the field.
"I accept the honor as recognition of China's development in biomaterial research, as well as recognition of our improving level of scientific research," Zhang said.
"In 1983, when I attended the World Biomaterials Congress for the first time, the Chinese delegation had three people," he said.
By 2012, this had completely changed. The congress that year was held in China, and more than 3,600 delegates attended, including 1,900 foreign delegates.
"This signaled that China has become an important player in world biomaterials science and engineering, and I would not have received the honor from the US National Academy of Engineering without world recognition of China's overall research level," he said.
The academy had 214 foreign associates by 2014, nine of them from the Chinese mainland — Song Jian, Xu Kuangdi, Zhou Ji, Wang Dianzuo, Xie Kechang, Yao Xi, Zheng Zhemin, Cao Xianghong, and Zhang.
Zhang began his research on biomaterials in the early 1980s, when he helped a dental department develop a bioactive material to repair damaged teeth.
During his experiments, he found that calcium phosphate ceramics he embedded in animals took on the characteristics of bone, and boosted bone formation.
"If I were a biologist or a medical scientist, I would have doubted my results because it did not make sense from a biological prospective. But I was a physicist, and from that perspective, it made more sense,'' Zhang said.
He carried out further simultaneous tests on 28 dogs, more than 60 rabbits and more than 100 rats. The results were the same: Bone formation was enhanced.
Zhang submitted his findings to the 1991 Bioceramics Conference in Italy, but was met with skepticism; some even called the findings "weird".
However, domestic scholars, including Shi Changxu, a member of both the Chinese Academy of Sciences and the Chinese Academy of Engineering, supported Zhang's research.
"They believed that real scientific findings are sometimes difficult to be accepted, but we should not just deny their possibility without conducting serious research," Zhang said.
With that support, Zhang received continuous funding from China's major science and technology programs, and he was invited to deliver plenary lectures at the 2nd World Congress of the Tissue Engineering and Regenerative Medicine International Society and the 8th World Biomaterials Congress. These meetings ensured that his Tissue Inducing Biomaterials received worldwide recognition.
China is the only country that uses osteoinductive calcium phosphate ceramics in clinical applications. This allows the ceramics not only to act as a scaffold, but the procedure also triggers bone growth.
Zhang Cong, a world-renowned orthopedist and director of the No 309 Hospital of the Chinese People's Liberation Army, highlighted the advantages of the treatment.
"In the past, we usually used metal and high polymer materials for artificial bone, which had problems such as corrosion and rejection. Using the calcium phosphate ceramics, however, will induce stem cells to differentiate along osteogenic lineage; the ceramics will degrade and gradually disappear, so nothing is there for the body to reject.''
Meanwhile, Zhang Xingdong and his team are developing better biomaterials. One of the materials that may be available in the market within two years is a composite material to repair load-bearing bones.
"Also, we have been carrying out studies on biomaterials that could induce other tissues, such as cartilage, blood vessels, etc.," Zhang said.