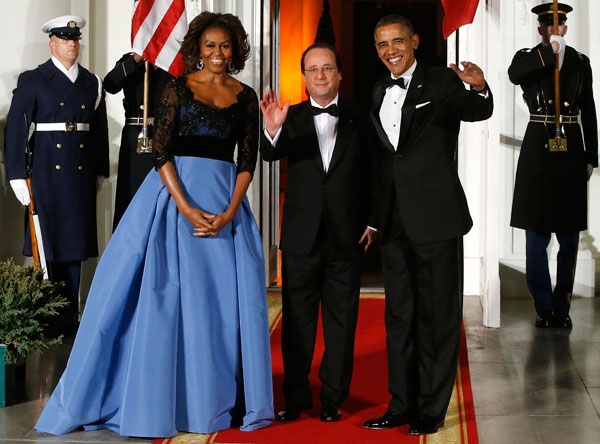 US President Barack Obama (R) and his wife Michelle greet French President Francois Hollande (C) as he arrives for a State Dinner in his honor at the White House in Washington, Feb 11, 2014. [Photo/Agencies]
A slab of dry-aged rib-eye steak, American caviar and salad representing US first lady Michelle Obama's garden were expected on the four-course menu for an elegant state dinner at the White House on Tuesday.
US President Barack Obama was to hold the affair for his French counterpart, Francois Hollande, who traveled to the US alone on the heels of his very public breakup with Valerie Trierweiler, his longtime companion and de facto first lady.
The seating arrangements weren't finalized, and there was no word on who will occupy the seat that would have gone to Trierweiler, who previously had been expected to attend.
Tuesday night's bash, inside a huge white tent on the White House's South Lawn, was to be the first state dinner of Obama's second term.
The wine list was expected to be strictly American, with selections from California, Washington state and Virginia.
So was the entertainment. Mary J. Blige, a nine-time Grammy award-winning singer-songwriter, producer and actress born in the Bronx, New York, was to perform for about 350 guests who will be seated at a modern-looking assortment of round, square and oblong tables inside the tent.
White House social secretary Jeremy Bernard, who on Monday helped preview the dinner for US and French media, explained the choice of Blige by saying she's an internationally known singer who can help celebrate someone like the first-term French president.
Hollande arrived in the US on Monday and spent the afternoon with Obama touring Monticello, the Charlottesville, Virginia, home of former president Thomas Jefferson, who was an early US envoy to France.
At the dinner, guests were to first enter the White House and proceed through a receiving line to be greeted inside the oval-shaped Blue Room by Obama and his wife, before exiting and boarding an old-fashioned trolley for a ride to the tent for dinner and Blige's high-octane musical performance.
The first course was expected to feature American Osetra caviar, farmed from the estuaries of Illinois, paired with quail eggs from Pennsylvania and a dozen varieties of potatoes from farms in New York, Idaho and California.
That was to be followed by a salad of petite radishes and baby carrots on a bed of lettuce and splashed with red-wine vinaigrette made using honey from the beehive on the South Lawn. The salad was to be served in a clear, glass bowl and resemble a terrarium.
The main course, dry-aged rib-eye from a farm in Greeley, Colorado, was to be served with blue cheese, charred shallots, oyster mushrooms and braised chard.
The planned dessert was chocolate malted cake, described as a modern version of a layer cake made with bittersweet chocolate from Obama's native Hawaii, Florida tangerines and served with vanilla ice cream from Pennsylvania.
After dinner, guests could dip into a serving dish made entirely of sugar to sample fudge made of Vermont maple syrup, shortbread cookies made with lavender from Michelle Obama's garden and cotton candy dusted with orange zest.
The square and round tables were covered in blue with clear-backed chairs, while the oblong tables have mirrored tops.
The White House florist, who studied floral artistry in Paris, created French-inspired bouquets that were meant to evoke the feeling of a painting by Monet, the French impressionist.
Related Stories:
Obama, Hollande make pilgrimage to Jefferson's estate