China eye 2-3 golds in Sochi
Updated: 2014-02-06 09:52:40
( Xinhua)
SOCHI - The Chinese delegation set sight on two or three gold medals even if they will be without star skater and four-time Olympic champion Wang Meng at the Sochi Winter Games.
Deputy chef de mission Xiao Tian told reporters Wednesday that Wang's absence should not become a burden on her teammates.
"Wang has been the backbone of the short track speed skating team and her absence did affect our gold prospects greatly. I hope her teammates can put on excellent performance instead," said Xiao after the national flag hoisting ceremony at the coastal athletes' village.
Wang picked a double fracture in her right ankle three weeks ago when she crashed into a teammate during training in Shanghai.
While the short track speed skating team are scratching their heads for plans to defend the women's 500m, 1,000m and 3,000m relay that Wang Meng won in Vancouver, speed skating squad also had bad news in store.
Deputy Secretary General of the delegation Zhao Yinggang revealed on Wednesday that newly-crowned world champion Yu Jing probably will not make her trip to Sochi.
"Yu suffered a recurrent waist injury, so she can not endure intensive training. This is something we don't want to see and we are studying who is going to replace her," said Zhao.
Yu is still in Beijing now. She just won the 500m title at World Sprint Championships in Nagano three weeks ago.
Despite losing star athletes, Xiao believed the rest of the delegation have the ability to bag two or three gold medals.
"If the athletes bring out what they get in training, they are capable of winning two or three gold medals," said Xiao.
Now the medal hopes will be pinned more on their skiers as China boast some advantages in freestyle skiing aerials.
Twice Olympic aerial runner-up Li Nina came back from retirement to win two World Cups this season while Xu Mengtao, 2013 world champion, already proved her competitiveness. In the men's team, Liu Zhongqing, bronze medalist in Vancouver four years ago, has been in great form to win the overall title this season. His teammate Jia Zongyang and Qi Guangpu pulled off the World Cup overall title last season and triumphed at the 2013 world championships respectively.
Back on the ice, the short track speed skating team will rely on younger players, such as two-time women's 500m world champion Fan Kexin.
The 20-year-old will compete in her first Olympics and she vowed to make the best out of it.
"We will still fight hard, even with our captain injured. We have been preparing for the Olympic Games for a long time and our team stays united," added Fan, who was crowned in the women's 500m at the World Championships in 2011 and 2012. "I have been working hard in training and I will be very happy if I can perform as well as I do in the training."
In speed skating, Wang Beixing remains the top medal hopeful as the Vancouver bronze medalist set foot on her third Olympic journey.
"No matter what happens, we have to face it. The pressure is always there," Wang said. "It's my third Olympic Games and I'm in good shape now. Hopefully I can make good use of my experience and perform to my best standard in the race."
The figure skating team feature Vancouver runners-up pair Pang Qing and Tong Jian. They will look to change their silver medal into a gold one.
China Daily in Sochi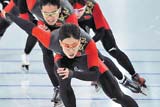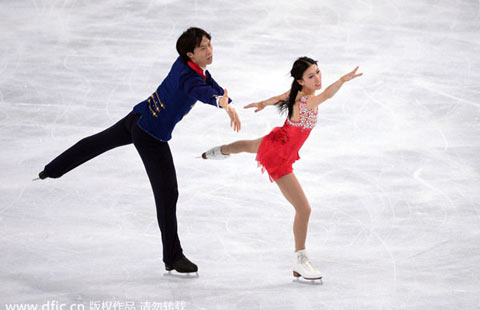 0
0
0
0
0
0
0
0
0
0
0
0
0
0
0