Russian official praises Sochi security system
Updated: 2014-01-29 22:00:23
( Xinhua)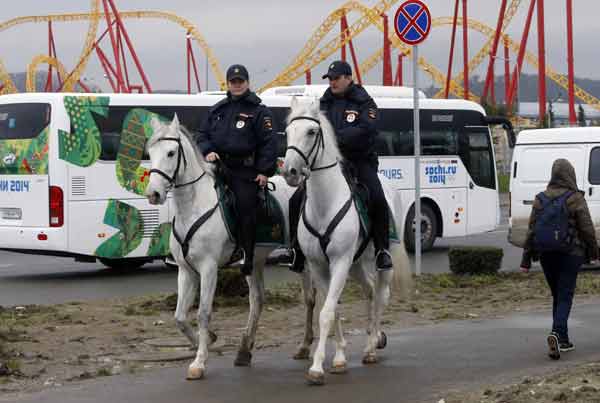 Russian police officers on horses patrol at the Olympic Park in the Adler district of Sochi, January 29, 2014. Sochi will host the 2014 Winter Olympic Games from February 7 to February 23. 
 [Photo/Agencies]
MOSCOW, Jan - The security system in the 2014 Winter Olympics host city of Sochi meets world standards, Russian Emergencies Minister Vladimir Puchkov said Monday.

In an interview with the Rossiiskaya Gazeta government daily to be published Tuesday, Puchko said the security level in Sochi was "fully in line with the global standards."

Calling the Games "a large-scale global-level event that defines our country's prestige," he said ensuring safety of the event was the most important task for the emergencies ministry.

"Specialists are getting ready for the Olympic Games just as athletes are," he added.

To prepare for the Games, the ministry had deployed a large grouping of forces and means, including more than 23,000 people and 500 units of equipment, said the official.

Meanwhile, a firefighting and rescue unit, a modern horse and dog specialist center and other facilities have been commissioned ahead of the Sochi Olympics, which will run from Feb. 7 to 23, he noted.

Training exercises, drills and checks are held constantly, he said, adding fire safety and emergency response training has been organized for volunteers.

Last week, Prime Minister Dmitry Medvedev assured that no safety threats existed for the 22nd Winter Olympics.
The Russian authorities have mobilized "sizable" police force to monitor the Olympics and other security services will be involved if needed, he said.
China Daily in Sochi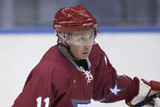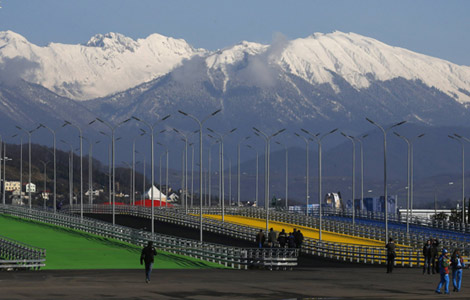 1
2
3
1
2
3
1
2
3
1
2
3
1
2
3
1
2
3