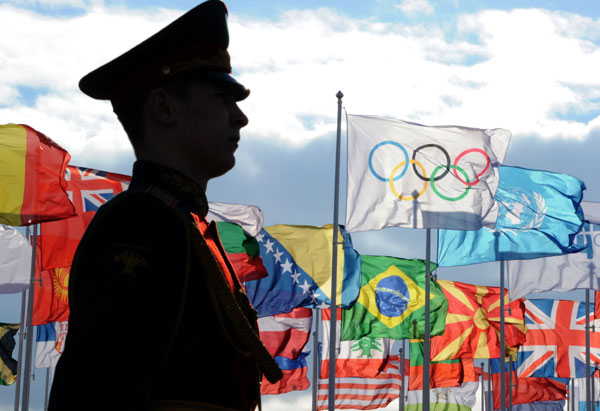 A guard stands at attention during a flag raising ceremony in the Coastal Athlete's Village at the Sochi 2014 Winter Olympics, in Sochi February 1, 2014. [Photo/Agencies]
SOCHI - The Ministry of Extraordinary Situations promised on Saturday to live up to its name and resolve any emergency that may arise during the Sochi Winter Olympic Games.
Aleksander Chupriyan, the deputy head of the ministry, said 2,000 emergency personnel had undertaken almost 1,000 sessions in preparation for the Games and a 70-strong search-and-rescue squad will be on hand for anyone trapped in the mountains.
"We are ready but let us wish the Ministry is not needed," he said.
There will also be 1,200 to 1,300 medical personnel, assisted by volunteers with medical and language training, on standby.
The ministry has also deployed 260 unites of rescue equipment, including seven helicopters equipped for medical emergencies in the mountains, a motorcycle squad, quadbikes, snowmobiles and cars suitable for driving in the mountains.
A special wire net has been secured on top of all potential landslide sites in the Krasnaya Polyana mountains.