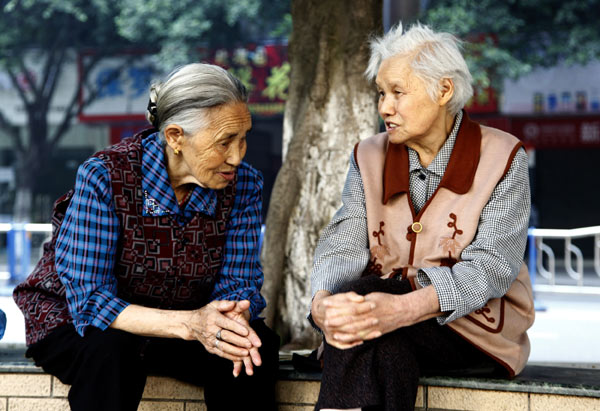 Increase in the senior population means a decrease in labor force, but brings great business opportunities for companies providing related services, Li Jiabao reports
The fast expansion of China's elderly population will severely challenge the nation's economic restructuring process because of the decrease in its labor force and the lackluster coverage of its social security system, officials said.
But the increase in the aging population also means great business opportunities for companies providing senior care services, because the world's second-largest economy is on track to expand domestic demand to maintain sustainable growth, experts added.
"Undoubtedly, the aging process of China's population will bring many unpredictable challenges to the country's development," Gu Xiulian, former vice-chairwoman of the Standing Committee of the National People's Congress, told a forum in November.
"The country has stepped into an aging society while its economy and society are still developing. The aging challenge is complex, huge as well as urgent in view of the weak economic foundation.
Compared with developed economies, China faces the double pressure of improving the lives of the huge senior population and maintain economic development," she added.
Li Wei, director of the Development and Research Center of the State Council, said China is not a severely aging country at present, but is on track to see a fast aging process because of family planning policies, accelerated urbanization and industrialization as well as decreasing fertility rates.
At the end of 2001, people aged 60 or above accounted for 10.33 percent of the whole population, while those aged 65 or above made up 7 percent of the population.
In November 2010, senior citizens accounted for 13.26 percent of the population, with 8.87 percent aged 65 or above.
In 2025, the elderly population will account for more than 20 percent of the total with about 12 percent aged 65 or above. In 2050, people aged 65 or above will make up one-quarter of the total population, Li said.
"Each day, China has about 25,000 more people aged 60. Actually, in September, China's elderly population surpassed the 200-million mark," said Hu Xiaoyi, vice-minister of human resources and social security.
China's elderly population will exceed 300 million in 2025 and 400 million in 2034, according to Minister of Civil Affairs Li Liguo.
However, a total of 440,000 elderly services institutions in China only provided about 4.2 million beds by the end of 2012, according to the Ministry of Civil Affairs.