How to cope with an aging society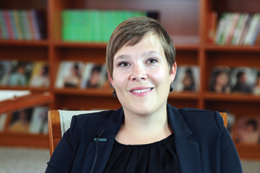 Danish Health Minister Astrid Krag says China and Denmark should help one another in providing services for the elderly. Wu Chuanjing / China Daily
As those of the post-1980 generation become the main breadwinners in China, one of the biggest questions is how the country will be able to support old people, who account for an ever growing proportion of the population.
Astrid Krag, the Danish Health Minister, says many other countries including hers face a similar challenge but that it presents an opportunity for China and Denmark to help one another.
"China is so big, while Denmark is so small," Krag says. "But we face the same core challenge from the aging society. In Denmark we have had some experience dealing with the issue, which China can borrow from. China can start from where we are now, and avoid the mistakes we have made."
On her first visit to China, beginning in late August, Krag, 31, led a business delegation, including managers, academics and personnel in healthcare, to Beijing to seek "even stronger cooperation" in the field with China.
Meeting Krag, Wang Pei'an, vice-minister of the National Health and Family Planning Commission, says the Chinese aged-care system faces stiff challenges.
"As the country with the most aged population, China is turning older before getting wealthier," Wang says. "There are many disabled elderly and empty nesters, and a high proportion of the poor are older people."
More than 194 million Chinese citizens were aged 60 and above last year, accounting for 14.3 percent of the population. The figure will reach 300 million by 2025, the Ministry of Civil Affairs says.
There is huge potential in developing industries that provide services for the elderly, such as daily healthcare and medicines, says Hou Yan, a director of the National Health and Family Planning Commission.
"China's health services industry is now a relatively complete system, but the industry accounts for only 5 percent of GDP, whereas in the US the proportion was 17.6 percent by 2009."
Of course, in at least one sense an aging population is good news, given that it means people are surviving illnesses and living longer, but it also means more people need to be cared for, socially and physically, Krag says.
By 2050, one in every four Danish citizens will be older than 65. The sharp rise in the Danish elderly population will be in those individuals in most critical need of care, those over 80. This group alone is expected to grow 20 percent over the next 20 years, says the Home Instead Senior Care Network, a global senior care organization based in the US.
The number of those aged over 80 in Denmark will double by 2030, Krag says.
"Over the years we have built a social structure with skilled personnel who are not nurses or doctors but trained specialists helping elderly citizens."
Krag looks on the delegation as a starting point for more cooperation. She met her Chinese counterpart, Li Bin, and discussed care for the elderly and medical devices. Danish companies are leaders in the latter, she claims.
"We also discussed hospital construction and special homes for elderly people."
Don't miss: