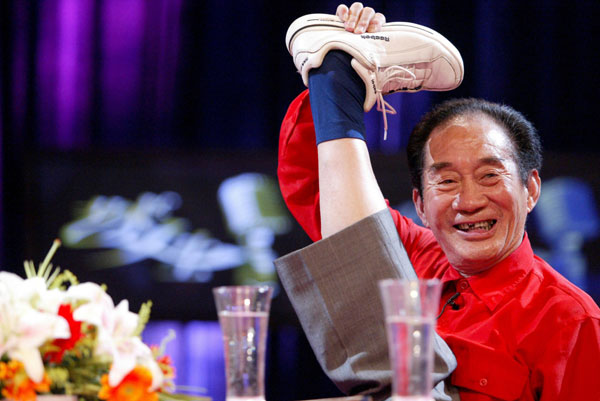 File photo of Zhang Zongyi 
HANGZHOU - Zhang Zongyi, one of China's most famed Monkey King performers, has died at the age of 90.
Zhang died of disease in his hometown Shaoxing, East China's Zhejiang province late Friday, said his son Zhang Jinlai, also a renowned Monkey King performer, on his microblog early Saturday.
The senior Zhang, with the stage name of Liulingtong, was a performing master of Shaoxing opera, one of China's regional opera varieties with a history of more than 200 years.
His son Zhang Jinlai, better known as Liuxiaolingtong, is a household name in China for playing the role of Monkey King in the TV series Journey to the West in 1986.
"Liulingtong is a prestigious figure in Shaoxing opera and dedicated to promoting Monkey King performance," said Zhu Yan, president of the Shaoju (meaning Shaoxing opera) Art Research Institute of Zhejiang.
Liulingtong made remarkable contributions to Shaoxing opera with his vivid performance. His performance won applause from late Chinese leader Mao Zedong in 1961.
Liulingtong was dubbed as "Monkey King of the South" in China. The "Monkey King of the North," or Peking opera artist Li Wanchun, died in 1985.
Monkey King is one of the main characters in Xiyouji, or Journey to the West, one of the greatest classic novels of Chinese literature originally published during the 1590s.
It tells the story of a Chinese Buddhist monk's quest to the west to obtain sacred Buddhist texts. The Monkey King is one of the monk's protectors.