BEIJING - Six new human cases of H7N9 bird flu and one death case were reported in China on Saturday, according to local health authorities.
The new cases included two in the southern Guangdong province, two in the eastern Zhejiang province, one in the eastern Fujian province and one in Hunan province in central China.
 Also popular: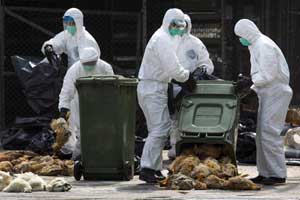 Two boys aged five and six respectively, were confirmed Saturday to have been infected with the disease in Guangdong, said the provincial health department. Both are in stable conditions.
An 82-year-old H7N9 patient died on Friday in Guangdong.
In Zhejiang, the two new cases were an 80-year-old farmer and a 54-year-old worker. Both live in the provincial capital Hangzhou. They are being treated in hospitals and in critical conditions.
Since January 1, more than 100 human H7N9 cases, including about 20 deaths, have been reported in several provinces in China, with Zhejiang and Guangdong most affected.
Health authorities have strengthened H7N9 prevention and control measures including the closure of live poultry markets in some affected cities.