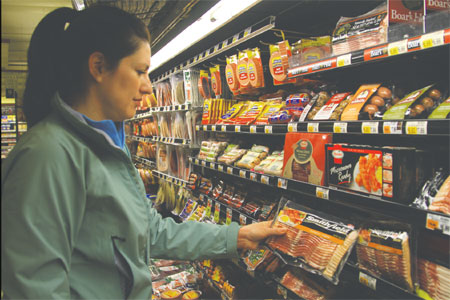 A customer looks at a Smithfield product at a grocery store in New York. Chinese company Shuanghuai, now named WH Group, acquired Smithfield for $4.7 billion, making it the largest investment by a Chinese company in the United States. [Bai Jie / for China Daily]
China is the 26th largest investor in the US, but two announced deals in the first month of the new year show that more are on the way as relations between the two super powers improve, say trade experts, China Daily's Zhang Yuwei reports from New York.
The year of the Horse in the Chinese lunar calendar got off to a good start for Chinese investments in the United States with the announcement of big deals and more that are expected to be in the pipeline.
This week Lenovo Group Inc, the world's largest personal-computer maker, agreed to buy Google Inc's Motorola handset division for $2.91 billion, making it China's largest-ever tech deal. The acquisition also puts Lenovo in the fast-growing smartphone business in the US as worldwide PC sales slow. Last year, the global PC market declined 10 percent to 314.5 million units, according to International Data Corp. The news came just days after Lenovo announced the purchase of IBM's low-end server unit for $2.3 billion.
Both moves reflect comments made earlier by Gerry Smith, president of the Americas for Lenovo, that the company's goal is to "become the No 1 smart-connected devices company in the world." It's now No 3 after Samsung Electronics Co and Apple Inc in the global smart-connected device market.
Lenovo, which calls itself a "global company with Chinese roots", has co-headquarters in Beijing and Raleigh, North Carolina. It has been focusing on its "PC-Plus" strategy; that Lenovo is "a devices company, not just a PC company".
Overall, Chinese investment in the US in 2013 doubled to a record of $14 billion, driven by large-scale acquisitions in food, energy and real estate, according to New York-based research firm Rhodium Group, which tracks overseas Chinese investments. In that investment surge, private firms are dominating capital inflows, accounting for more than 80 percent of transactions and more than 70 percent of total transaction value.
The pick up by private firms in comparison with State-owned enterprises reflects the commitment of the Chinese government to focus on development driven by the private sector, said David Riedel, president of New York-based Riedel Research Group.
"This is a healthy development from the perspective of the broader Chinese economy," Riedel said in an interview. "External investments by private companies are less politically sensitive than investments from State-owned companies, which are critical to investment success in the US."
The Wall Street Journal reported the day after Lenovo's announced deal for Google's Motorola unit that it and the agreement with IBM for its server business are "likely to draw scrutiny from US regulators concerned about security issues involving acquisitions by Chinese companies".
Last year, several Chinese deals gained approval from the Committee on Foreign Investment in the United States (CFIUS), an inter-agency committee that reviews foreign investment deals.