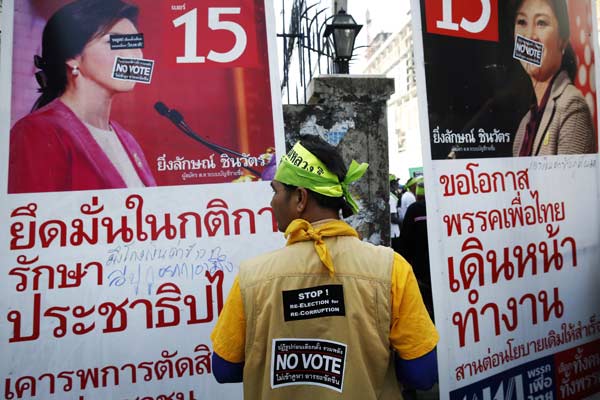 An anti-government protester walks in front of pre-election posters of Prime Minister Yingluck Shinawatra with "No Vote" stickers placed by his group while marching through Bangkok January 31, 2014.
  [Photo/Agencies]
BANGKOK - Thai caretaker Prime Minister Yingluck Shinawatra on Friday appealed anti-government protesters not to block voting during the Feb. 2 general election.

Otherwise, Thailand will be viewed as an undemocratic country, Yingluck was quoted by the Nation newspaper as saying.
Protest leader Suthep Thaugsuban has called a mass rally on Feb. 2 to completely paralyze the capital and prevent people from casting their votes. He has been marching on Bangkok streets over the past days to mobile people to join in.

More than 200,000 police officers will be deployed nationwide on the election day to maintain law and order, according to assistant national police chief Amnart An-atngam.

In addition, another 7,000 soldiers will assist the police in areas where a 60-day state of emergency has been imposed since Jan. 22, Amnart said.

Following the Feb. 2 election, a new election has been set for Feb. 23 for scores of constituencies where advance voting on Jan. 26 was disrupted by protesters.