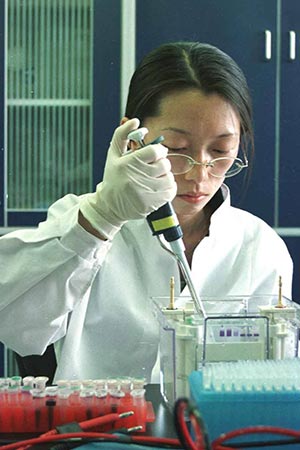 Novo Nordisk AS' research and development center in Beijing. The Copenhagen-based company now has more than 37,200 employees in 76 nations and regions. Provided to China Daily
Pharmaceutical company boss says he puts work before everything
Lars Rebien Sorensen says life is not perfect, although he has been global chief executive officer of a multinational pharmaceutical giant for 13 years and has a harmonious family with a delightful wife and three grown-up sons.
"I don't regret anything," said the CEO and president of Novo Nordisk AS, the world's top insulin producer by sales. Sorensen was referring to failures he has undergone and the lack of balance between his work and outside life.
"I think only through failure can we develop and progress," said the 60-year-old, who has been working for the Denmark-based multinational company for 32 years. Sorensen has witnessed and experienced business ups and downs in the company and the industry.
His devotion to work has helped the company achieve stable growth, even amid the financial crisis that hit in 2008, over the last decade. "I did it with my eyes open. I have had a successful career. It was not without rewards. But I have paid a price of perhaps a less deep relationship with my children and having a small social network," he said.
Novo Nordisk was founded by Nobel Prize winner August Krogh and his wife Marie Krogh 91 years ago and is now a Copenhagen- and New York-listed company with more than 37,200 employees in 76 nations and regions. It focuses on diabetes care. Its sales exceeded 20.51 billion Danish kroners ($3.76 billion) in the third quarter of last year.
Huge market
According to the International Diabetes Federation, there were 382 million people suffering from diabetes in 2013, causing 5.1 million deaths and at least $548 billion in healthcare expenditure. It estimates the number of patients will reach 592 million by 2035.
International market research firm IMS Health's statistics show global use of insulin doubled during the last 10 years to reach a cost of $15.4 billion in 2012. Novo Nordisk's market share has remained more than half of that over the last decade, which has supported its stable annual sales growth.
However, the company is facing more and more serious competition from companies such as Eli & Lilly Co and Sanofi SA. The former is competitive in the insulin sector, while the latter is developing fast in the insulin pen and device segment, which has been dominated by Novo Nordisk for years.
"Eyeing the huge potential of the diabetes market, drugmakers, especially some comprehensive medical companies, are making great efforts to explore the promising market," said Maziar Mike Doustdar, senior vice-president of international operations at Novo Nordisk. He added that Novo Nordisk's focused strategy has a unique advantage, while competitors may need comprehensive research and development resources to make breakthroughs in this field.
Sorensen fully understands the market situation. Novo Nordisk is pooling huge funds to develop oral insulin, which is regarded as a future milestone in human diabetes therapy.
In the pharmaceutical industry, failures are unavoidable in research and development. Sorensen admitted he had experienced such failures, but said they made the company stronger. He was appointed as the president of Novo Nordisk's US affiliate about 20 years ago. The company then had a research center in California trying to develop a new kind of insulin. "I was very busy promoting the concept of that type of insulin because our competitor was developing a similar project. But then there were some problems and we decided to abandon the project."
Sorensen went to California to lay off 300 people. "It was very difficult because it was my fault. But then you had to teach yourself that it's OK in a way," he said. "If we don't try new things, we can't create great new jobs, right?"
He recalled that the lay-offs tortured him because there was much sympathy for him as he dismissed the workers and he was very uncomfortable with this. "They felt great sympathy for me. It was kind of an opposite situation," Sorensen said.