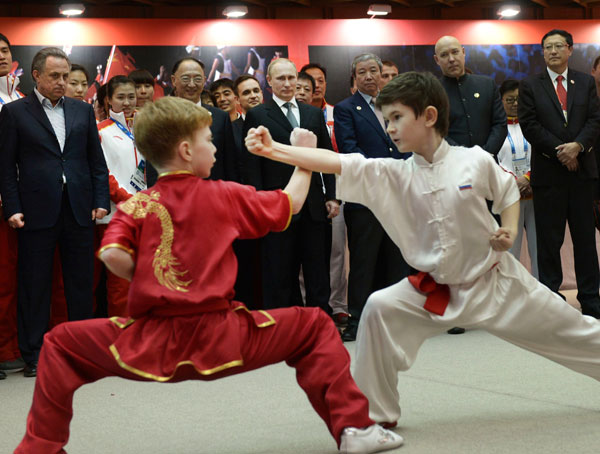 Russian President Vladimir Putin watches a martial arts performance as he visits the China House, established by the Chinese Olympic Committee, during the Winter Olympic Games in Sochi, Russia, on Monday. Photo by Reuters
Russian President Vladimir Putin wished Chinese athletes a successful Winter Olympic Games in Sochi on Monday, promising to enhance sports cooperation and youth links between the two nations.
Putin made the comments during a visit to China House, the Chinese Olympic Committee's center for receiving guests, in the Russian coastal city of Sochi.
Putin said President Xi Jinping, who attended Friday's opening ceremony for the Games, had asked him to pay special attention to the Chinese athletes at the Games.
"I believe the Chinese athletes will perform well; at least they will have a good time here," Putin said. "I know the Chinese athletes are very hardworking. I wish you success."
China House was set up by the Chinese Olympic Committee for the Games to serve the Chinese delegation, receive guests and display to the public the history of Chinese sports.
Putin met some of the representatives from the Chinese delegation. He also listened to discussions between young athletes from the two countries.
After watching a performance of Chinese martial arts, Putin talked with Liu Peng, director of China's State General Administration of Sport and also chef-de-mission of the Chinese delegation. Liu told him about Beijing's bid for the 2022 Winter Olympic Games.
"The whole world knows that China is making great efforts in the development of sports, and President Xi has attached great importance to it," Putin told Liu. "I believe China's winter sports will achieve good results as well. I hope there will be more communication among the young people from our two countries."
Xiao Tian, deputy chef-de-mission of the Chinese delegation, said, "Putin's visit to China House marked the close relationship between the two countries."
Chen Lu, China's figure skating women's singles world champion and two-time Olympic bronze medalist, met Putin during his visit to China House.
"It was my first time meeting him, and I shook hands with him. He is a nice man."
leilei@chinadaily.com.cn
Related Stories:
Chinese performance at Sochi Winter Olympic, Feb 10
Highlights of Sochi Winter Olympics on Feb 10