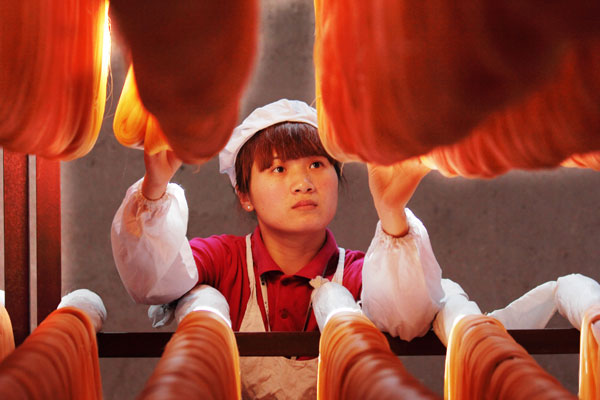 A worker airs silk yarn at a workshop of High Fashion Silk Co Ltd in Xinchang, Zhejiang province. The facility is the only National Silk Product Development Base approved by the China National Textile Development Center. Provided to China Daily 
High Fashion Silk (Zhejiang) Co Ltd, a leading global woven silk and knitting fabric producer, plans to transform itself from a traditional manufacturer into a more creative enterprise producing higher value-added items, its chairman said.
"Our focus is to make the transformation and become a cultural and creative company, based on supportive policies and our own advantages," Lin Ping, chairman and chief executive officer, said.
Revenue was essentially flat last year at 1 billion yuan ($164 million). Net profit was more than 30 million yuan.
Its production in the past three years totaled 2 billion yuan, with $80 million in exports. The company has an annual production capacity of 10 million meters of woven silk, 1,000 metric tons of silk knitting fabrics, 3 million pieces of home textiles and 3 million silk neckties.
The main brands, designers and retailers the company cooperates with are Uniqlo Co Ltd, Calvin Klein Inc, Diane von Furstenberg and Macy's Inc.
Its business with these customers has traditionally been based on silk material, so its profit ratio was low.
In January, Premier Li Keqiang chaired a State Council executive meeting and made plans to promote the development of the cultural and creative services sectors.
Measures include strengthening intellectual property protection, encouraging private capital to set up design and creative centers, perfecting supporting policies and improving financial services.