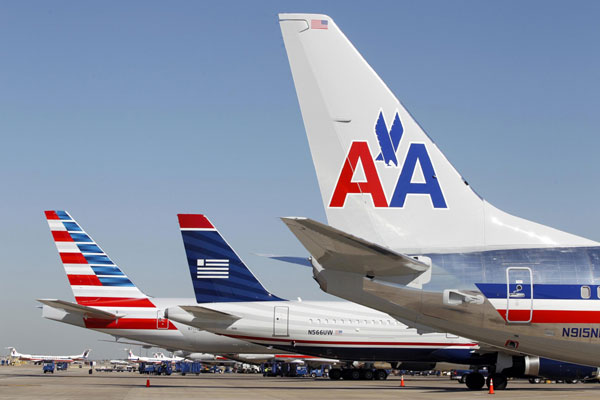 The tail sections of a newly designed American Airlines aircraft (L), a US Airways aircraft (C) and a traditional American Airlines aircraft are lined up at Dallas-Ft Worth International Airport, Feb 14, 2013.[Photo/Agencies] 
American Airlines Group Inc, the world's largest carrier, will expand its presence in China, where it expects to see revenue grow 67 percent this year.
The rapid rate of growth will result from adding flights, as the airline, which completed a merger with US Airways Group Inc in December, will launch two new nonstop services from Shanghai and Hong Kong to Dallas this summer, said Scott Kirby, president of the new American Airlines.
Growth beyond this year will depend on gaining slots and flight rights, he said, but the carrier hopes to grow by at least double digits - in line with China's air travel market in recent years.
With the new flights, AA will have five daily flights between China and the United States. AA only has a small share of the China-US air traffic market, because the former US Airways didn't have any trans-Pacific routes.
Asia, especially China, will be one of the carrier's most important markets.
According to the International Air Transport Association, the region's air travel grew 7.1 percent in 2013, almost 5 percentage points faster than North America.
Although AA is the world's largest airline, it isn't the biggest in Asia, said Chief Executive Officer Doug Parker.
The carrier is talking with Chinese aviation authorities about slots and flight rights, though it wouldn't disclose details.
"There is a lot of room for growth in the trans-Pacific market, as we are small here," Parker said.
More pictures: