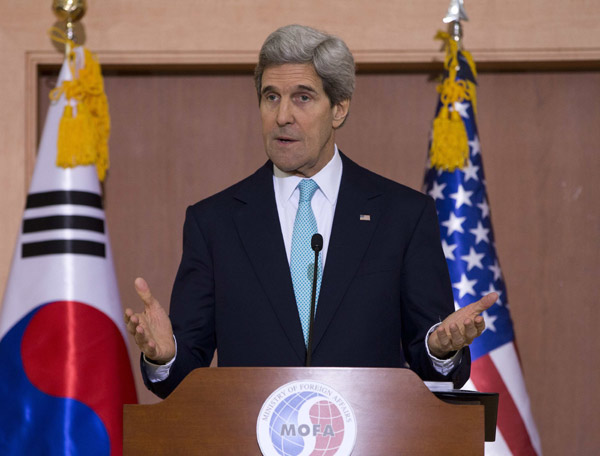 US Secretary of State John Kerry gestures during a news conference with South Korean Foreign Minister Yun Byung-se (not in picture) in Seoul February 13, 2014. [Photo/Agencies]
SEOUL - US Secretary of State John Kerry said Thursday that the Democratic People's Republic of Korea (DPRK) will not be accepted as a nuclear state, reiterating his position that Pyongyang must live up to its commitment to denuclearization.
Kerry made the remarks during a joint press conference in Seoul with his South Korean counterpart Yun Byung-se. It was the fifth dialogue between top diplomats of the two allies in the past year.
Kerry arrived here earlier in the day. The Republic of Korea is the first stop on his Asian tour, which will also take him to China, Indonesia and the United Arab Emirates. After paying a courtesy visit to South Korean President Park Geun-hye, Kerry met with Yun.
Kerry said that the DPRK had yet to demonstrate its commitment to denuclearization, urging Pyongyang to take real action to prove its sincerity.
The top US diplomat noted that the United States will not engage in talks with the DPRK for the sake of talks, indicating that the six-party talks, aimed at dismantling the DPRK's nuclear program, will be resumed only after the DPRK proves its authenticity.
Kerry said "the United States does not believe that it is appropriate" to link the humanitarian event to the military matter, pointing out the DPRK's call for the delay of the joint military exercises between the United States and the ROK scheduled to begin later this month.
The DPRK called for the ROK during the high-level talks held Wednesday at the truce village of Panmunjeom to postpone the South Korea-US military drills until after the family reunion ends later this month.
Seoul and Pyongyang agreed last week to hold reunion of families separated by the 1950-53 Korean War from February 20 to 25 at the DPRK's scenic resort of Mount Kumgang.
Seoul's Defense Ministry said Monday that combined forces of South Korea and the United States will carry out the "Key Resolve" and "Foal Eagle" war games from February 24 to April 18, dates that overlap for two days with the family reunion event.
Kerry said that the joint ROK-US war games will take place as planned.
Related:
ROK, DPRK begin senior-level talks as scheduled
DPRK cancels meeting with US envoy
DPRK urges ROK to cancel military drills with US