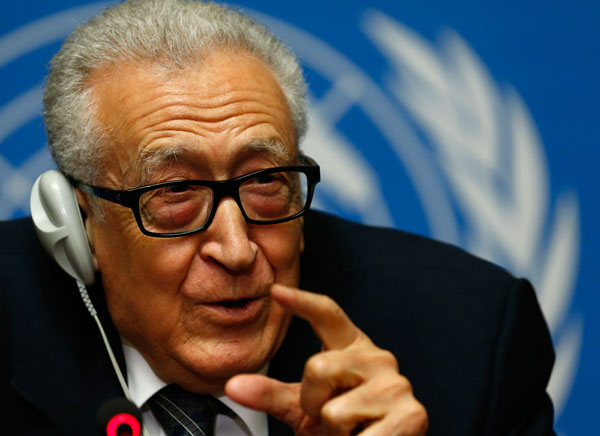 UN-Arab League envoy for Syria Lakhdar Brahimi addresses a news conference at the United Nations European headquarters in Geneva Feb 13, 2014. The United States and Russia have pledged to help unblock stalled negotiations between Syria's two warring sides, international mediator Brahimi said on Thursday. [Photo/Agencies]
GENEVA - The United States and Russia have pledged to help unblock stalled
negotiations between Syria's two warring sides, international mediator Lakhdar Brahimi said on Thursday.
Brahimi held a two-hour meeting with US Under Secretary of State Wendy Sherman and Russian Deputy Foreign Minister Gennady Gatilov to try to salvage faltering peace talks between the opposition and Syrian government.
"They have kindly reaffirmed their support for what we are trying to do and promised that they will help both here and in their capitals and elsewhere to unblock the situation for us because until now we are not making much progress in this process," Brahimi told a news conference in Geneva.
Brahimi said that no new confidence-building measures - such as prisoner releases or agreement on access to besieged areas - had been discussed during the round that began between the opposition and Syrian government on Monday.
Asked whether positions had narrowed, he said: "I think they are a little bit more familiar with the presence of the other side. I don't think any friendships have developed yet."
"Failure is always staring at us in the face. As far as the United Nations is concerned we will certainly not leave one stone unturned if there is a possibility to move forward. If there isn't, we will say so," he said.
A US official in Geneva said that the meeting with Brahimi and Gatilov had focused on "several tough issues", adding: "The hard work of this diplomacy continues, and the United States will continue to support this work going forward."
Related readings:
Syria talks to continue on Geneva Communique