The most popular game during the Lunar New Year undoubtedly was grabbing red envelopes online.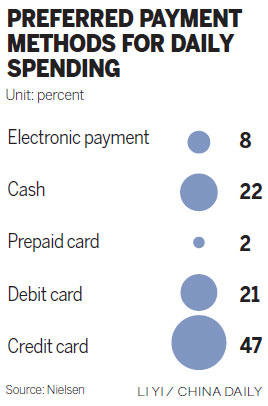 With a click on one's mobile phone, one could send an envelope to or get one from a friend - a traditional Chinese way of celebrating the Spring Festival.
Tencent Holdings Ltd, which created the campaign, said more than 5 million people took part in the game, grabbing 75 million red envelopes on Jan 30, Lunar New Year's Eve, and Jan 31.
Although Tencent didn't provide details, industry insiders estimated that roughly 200 million people played the game, and about 100 million debit cards were linked to WeChat payment accounts, as such cards were required in order to send the online envelopes, which offered the option of a "lucky" random amount going out to senders' friends.
According to Zhu Mingchun, general manager of the Wangdaizhijia website, a P2P lending portal, the red envelope game triggered a boom in Internet finance. And that, in turn, will help change Chinese customers' method of paying for things, with more preferring online payments.
Chinese respondents report the world's highest level of confidence in using their payment cards on a mobile device, a Nielsen survey showed on Wednesday.
According to the survey, more than 70 percent of Chinese respondents said they feel comfortable shopping online and using their payment cards on either a smartphone or tablet device as long as their personal information is protected.
Seventeen percent were more hesitant, saying they might use a credit or debit card for online payment. And about one-fourth (26 percent) said they would not use their cards on either a smartphone or tablet.
The Nielsen survey found that 22 percent of Chinese respondents already use electronic payments as their second-most preferred payment vehicle, exceeding the global average of 14 percent.
The Nielsen Global Survey of Saving and Investment Strategies was conducted between Aug 14 and Sept 6, 2013, and polled more than 30,000 people in 60 countries.
"Further enticement to do online shopping comes with the advancement of electronic wallet solutions that facilitate the use of cards in a virtual environment by creating secure payment channel alternatives," said Kevin Wang, director of Nielsen China.
In this regard, banks as well as card issuers should pay attention to the robust growth of electronic and mobile payments in China, according to Wang.
"By providing a more convenient and secure platform, combined with value-added services and better promotions, issuers have an opportunity to drive cardholder satisfaction and loyalty, and push forward the next wave of consumption growth," he said.