Julia Marino, Paraguay's 1st ever Winter Olympian
Updated: 2014-02-12 10:50:21
( Agencies)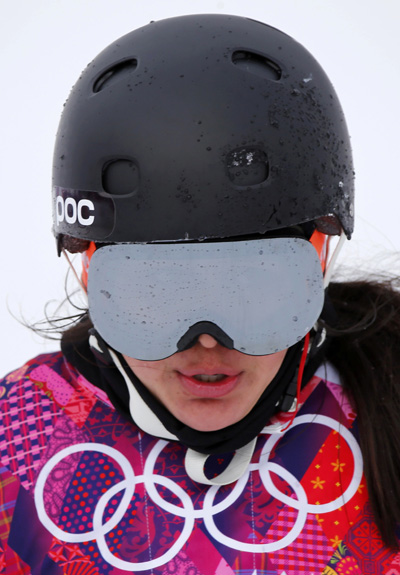 Paraguay's Julia Marino reacts after crashing during the women's freestyle skiing slopestyle qualification event at the 2014 Sochi Winter Olympic Games in Rosa Khutor February 11, 2014.
  [Photo/Agencies]
KRASNAYA POLYANA, Russia - Julia Marino grew up in Massachusetts and spent her weekends skiing in New Hampshire. She had a shot at competing for the United States in the Olympics.

With the Sochi Games in sight, the 21-year old psychology student at the University of Colorado made an unexpected decision. She became Paraguay's first- ever winter Olympian, competing in the slopestyle freestyle ski.

Marino was born in Bahia Negra, a port on the Paraguay River 280 miles (450 kilometers) north of the capital Asuncion. Marino was eight months old when she and her brother, Mark, were adopted by an American couple, who raised them in Winchester, Massachusetts.

Marino always had a desire to connect with her South American roots. When she finished second last year in a World Cup competition in Spain, a result that put her in a good position to make the United States team, she instead started thinking about representing Paraguay in Sochi.

"I had a really good chance of making the U.S. team, but then I thought about what the Olympics meant to me, that I was born in Paraguay and that I wanted to represent my home country," said Marino in English. "It's amazing having all that support and love from Paraguay, it's incredible."

Paraguay _a subtropical nation landlocked between Brazil, Argentina and Bolivia_ does not have snow, let alone a national ski federation. When Marino contacted Paraguay's sporting authorities, the country's National Sports Department obtained a temporary affiliation to the international ski federation, which was approved in October.

"It took a lot effort from both ends, and I couldn't be more proud how it turned out," Marino recalled.

Marino visited Paraguay in November, her first time in the country since her adoption.

"It was a personal decision, it was the best route. I'm ready to train hard and get ready for the next one", she said.

On Tuesday, she finished 17th out of 22 competitors, and did not make it out of the qualifiers. Marino also fell right before completing her second run of the day.

"It's disappointing. It's hard when you set yourself high expectations. It's over," said a tearful Marino. "It's the Olympics, my time here in Russia is something I will never forget. Things happen in competition, people fall. This is a way different event in such a high pressure."

Marino hopes to compete in the 2018 Games in Pyeonchang, South Korea, again representing Paraguay.
China Daily in Sochi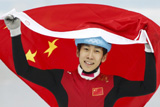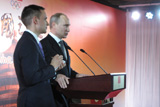 4
3
4
4
3
2
4
1
0
3
2
3
2
1
4
2
0
0