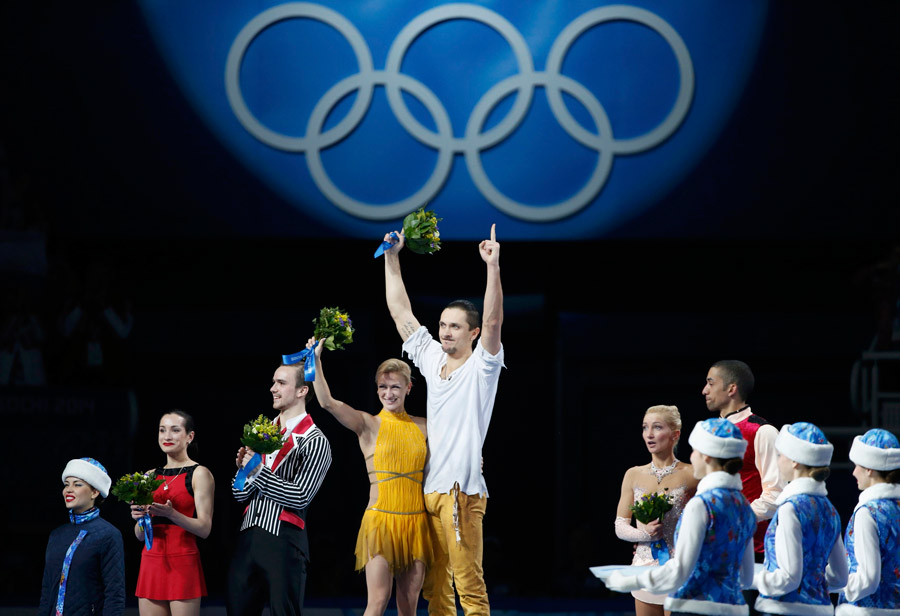 First-placed Russia's Tatiana Volosozhar (center-L) and Maxim Trankov celebrate on the podium, next to second-placed Russia's Ksenia Stolbova (L) and Fedor Klimov (2nd L) and third-placed Germany's Aliona Savchenko and Robin Szolkowy (R) in the figure skating pairs free skating program at the Sochi 2014 Winter Olympics, February 12, 2014. [Photo/Agencies]
SOCHI - Russia won their second figure skating gold medal at the Sochi Winter Olympic Games as the world champion Tatiana Volosozhar/Maxim Trankov dominated the rink with ease here on Wednesday.
Volosozhar/Trankov became the first competitors to win two Olympic gold medals in a single Games in this sport as they were part of the winning team in the team event.
Home fans' favourites Volosozhar/Trankov, world champion in 2013, gave a strong performance when skating to Jesus Christ Superstar, winning the gold medal with 152.69 points in the free skating and 236.86 in total.
"To be honest I was crying because I felt so many emotions: nerves, concentration. I'm still nervous and shaking, but I'm also so happy. We did really well today, " said the 27-year-old Volosozhar.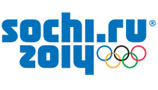 Skating to the Addams Family by Marc Shaiman, Ksenia Stolbova/Fedor Klimov of Russia, European championships silver medalists, finished a clean free skating by collecting a season best of 143.47 points for a total of 218.68 points to take the bronze.
Alion Savchenko/Robin Szolkowy of Germany clinched the bronze by 215.78 points.
"Today was a big day for all of Russia. Two of our couples have skated very well and I think everyone in our big country is pleased. It was the hardest job of our lives. We dealt with huge pressure today. We already have gold in the team event, but this would be the realisation of the goal and the dream of our lives," Trankov said.
"I have wanted to skate to the music to 'Jesus Christ Superstar' for a long time. It is a dream to skate it at the Olympics, and to skate it together," he added.
"We did everything exactly the way we were planning it. We've been working very hard and that's what has made us succeed. We are so thrilled. And we can't believe that it's over," Klimov said.
"It was very important for us to perform well at the Olympics that are in Russia. It's an once in a lifetime opportunity," he added.
Pang Qing/Tong Jian of China, silver medalists at Vancouver Games, earned 136.58 points with their free skating and a total of 209.88 points for the fourth place in Sochi, were seeing their fourth and the last Olympics.
"We performed every element as best as we can. I didn't do the double axel very well," Pang said.
"We're happy to have had the chance to skate our last performance at the Olympic Winter Games. It's an honour. We could have been more lucky if we won a medal. "
Another Chinese pair Peng Chen/Zhang Hao, having paired up for less than two years, grabbed the eighth place in the final ranking with 195.72 points.
"Altogether, we skated three program here, two short and one free (team event short program). We've been skating together for less than two years. This is not enough, we need more practice and we'll have better results next season," said the 30-year-old Zhang, silver medalist at the Turin Games with previous partner Zhang Dan.