President Xi leaves for Sochi ceremony
Updated: 2014-02-06 09:43:23
( chinadaily.com.cn) WU JIAO
President Xi Jinping left Beijing Thursday morning to attend the opening ceremony of the Winter Olympic Games in Sochi, Russia, from Feb 6 to 8.
It is the first time for a Chinese president to attend a major overseas sports event, signaling China's strong support for the Olympics and Russia's efforts to host the games.
It is also the second consecutive year that Xi had made Russia his first overseas trip of the year, which reflected the special nature of the Sino-Russia relationship.
During his three-day stay there, Xi is expected to attend the opening ceremony of the Sochi Winter Olympic Games, and hold talks with Russian President Vladimir Putin.
Last year, besides Xi's state visit to Russia in March, the two presidents have met four times at international events.
China Daily in Sochi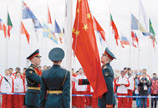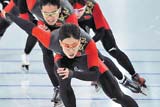 0
0
0
0
0
0
0
0
0
0
0
0
0
0
0