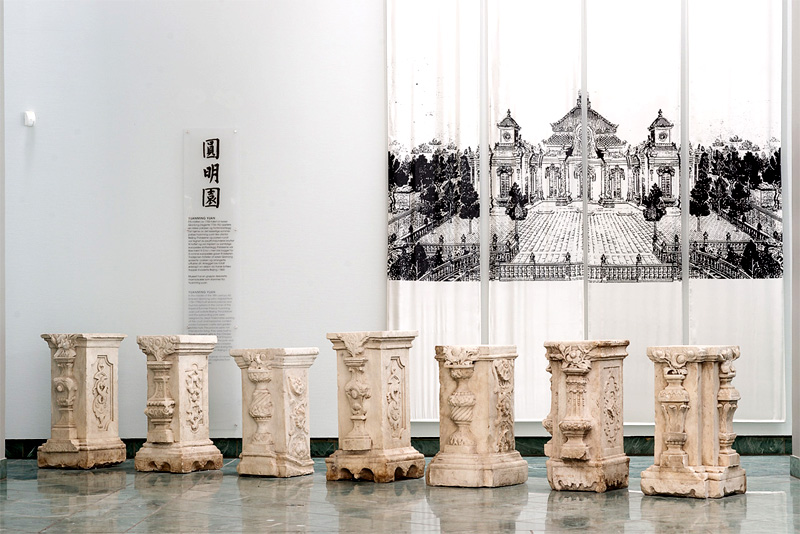 The seven marble columns looted from the Imperial Yuanmingyuan Garden, or the Old Summer Palace, about 150 years ago were on exhibit at the Kode Art Museum of Bergen, Norway. The museum will return the columns to China in September. Provided to China Daily 

A Norwegian museum will return seven marble columns, taken about 150 years ago from western Beijing's Imperial Yuanmingyuan Garden, or the Old Summer Palace.
The deal was reached under a trilateral agreement made by the museum, Chinese tycoon Huang Nubo and Peking University. The columns will return to China in September and be publicly exhibited at Peking University after maintenance and restoration work.
Huang, chairman of Beijing Zhongkun Investment Group, will donate 10 million Norwegian kroner ($1.63 million) to the museum.
Huang told China Daily that the museum donation is not a trade or "throwing away money", but "a very meaningful action that shows patriotism, as well as a way of repaying back the mother country, which made me rich".
Karin Hindsbo, director of the Kode Art Museum in Bergen, told China Daily that "the donation shall be used on academic research and the general care of our collections of Chinese art".
"A donation like this makes a world of difference for Kode," Hindsbo said.
Huang said he was invited to visit the art museum in Bergen, Norway's second-largest city, by then-director Erlend G. Hoyersten when Huang was at a Sino-Scandinavian poets' exchange event in Norway last year.
"The moment I saw the columns, my eyes teared up. After all, the lost relics from Yuanmingyuan represent an indelible history for all Chinese," Huang said. "I told the museum staff the relics should not be on show, and they were sympathetic to my feelings."
During the Qing Dynasty (1644-1911), British and French expeditionary forces invaded the garden in 1860, removing its precious imperial collections and burning the rest.
Norwegian cavalry officer Johan W.N. Munthe got some of them from unknown sources and donated 2,500 Chinese artifacts to the Kode museum in the early 20th century.
According to Zheng Lihong with the Yuanmingyuan park, the marble columns, representing a combination of old Chinese stone arts and Western artistic influence, were originally installed in the Western-styled part of the garden.
Zheng has not commented on the return of the columns.
Huang said the relics were not in good shape when he visited.
"I heard the museum was robbed twice. And they came to me in hope of getting a sponsor for better protection and maintenance," Huang said.
"The museum is in possession of 21 columns, and has for decades only showed seven. So transferring seven of the 21 columns to China will not be a loss to the museum," Hoyersten told China Daily.
Not to miss