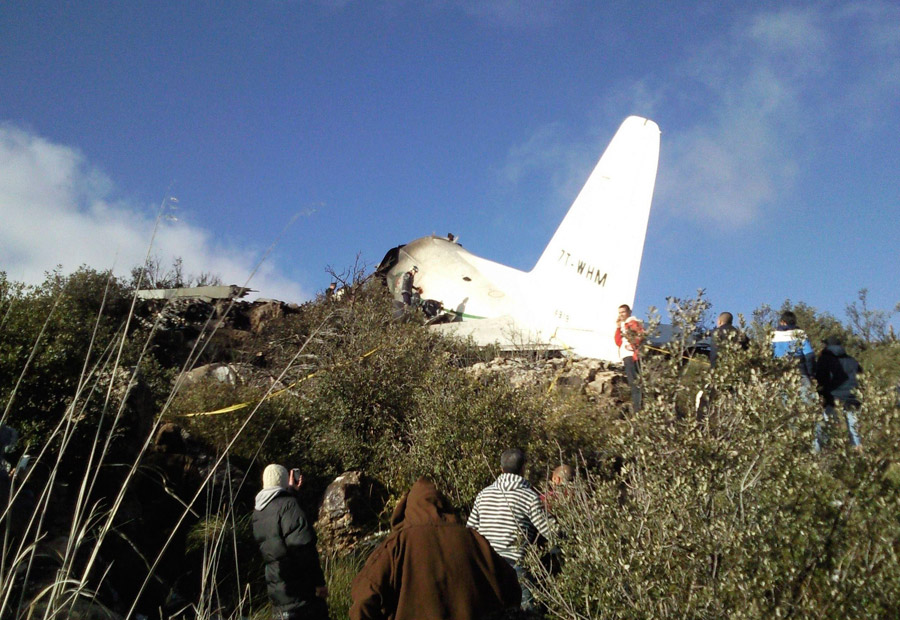 People gather near a crashed military plane in Oum El Bouaghi province, about 500km (311 miles) from the capital Algiers, February 11, 2014. [Photo/Agencies]
ALGIERS - An Algerian military plane carrying 78 people crashed on Tuesday into a mountain in the country's eastern region, leaving only one possible survivor, the defense ministry said.
The C-130 Hercules military plane crashed in the province of Oum El Bouaghi around midday (1100 GMT) on its way from the Tamenrasset airport, some 2,000 km southeast of Algiers, to the Constantine airport, 500 km east of the capital city, according to a statement from the ministry.
It carried 74 passengers -- members of the Algerian armed forces and their relatives, and four crew members, the statement said.
A survivor and 76 bodies were recovered at the crash site, including remains of four women, on Mount Fortas at an altitude of 1,400 meters. One passenger has not been accountable so far.
The sole survivor was seriously injured in the head and leg and had been taken to a military hospital in Constantine. A local source said the survivor had died on the way, but no official confirmation has arrived yet.
The statement said the crash was likely provoked by the lack of visibility due to the heavy snow fall and strong wind that prevailed in the region. The local newspaper El Watan said one of the two black box flight recorders had been located.
Earlier reports by local media said there were 103 people onboard the plane.
Nearly 250 emergency personnel were deployed to the crash site despite the difficulties caused by the mountainous terrain and wintry conditions, said the statement.
President Abdelaziz Bouteflika called the soldiers who died in the crash "martyears" and announced a three-day national mourning starting from Wednesday.
The accident was Algeria's worst plane crash since 2003, when 102 people were killed after a civilian airliner crashed at the end of he runway in Tamanrasset, with also one survivor left.
In November 2012, an Algerian cargo plane returning from Paris crashed in southeastern France, killing all six people on board.
One month later, two military jets conducting routine training operations collided in mid air in the northwestern Algeria, killing the pilots of both planes.