Asiana air crash pilot 'stressed' ahead of landing
The pilot of a South Korean airliner that crashed in San Francisco in July felt very stressed about touching down without a functioning instrument landing system to guide him, according to documents released on Wednesday.
Three teenage Chinese students died when Asiana Airlines Flight 214 clipped a seawall with its landing gear, skidded off the runway and burst into flames after an otherwise routine flight from Seoul on July 6. One of the students survived being thrown from the aircraft but was hit by a firetruck as she lay beneath a wing covered with firefighting foam.
Interviews with survivors indicated that the other two girls who died were apparently not wearing their seat belts, the hearing was told.
Another 182 passengers and crew members aboard the Boeing 777 were injured, in the first fatal commercial airline crash in the United States since 2009.
A summary of Captain Lee Kang-kuk's interview with US air accident investigators was made public as part of a daylong National Transportation Safety Board hearing in the US capital.
"We heard a lot today," NTSB chief Deborah Hersman told reporters at the end of the hearing, adding that the case remained a top priority for the federal agency.
While the final report should be ready by the first anniversary of the crash, Hersman said, "We will take as long as we need to complete the investigation."
Thousands of pages of investigative documents released during the NTSB hearing revealed that pilot Lee Kang-kuk harbored fears about landing safely while relying on manual controls and a visual approach, but he didn't express them to his fellow crew members because he didn't want to fail his training mission and embarrass himself.
Lee - a seasoned aviator undergoing transition training to the Boeing 777 - told investigators he felt "very stressful" about making a visual approach.
The instrument landing system at San Francisco had been out of service since June due to construction work, calling for a hands-on approach on an otherwise fine summer day.
Under normal circumstances, the system would let pilots know if they were too high or too low.
A visual approach requires looking out the window and taking cues from an array of approach lights at the runway's edge.
"Asked about whether he was concerned about his ability to perform a visual approach, he said, 'very concerned, yeah,'" according to the NTSB summary.
"Asked what aspect he was most concerned about, he said 'the unstable approach'" - the ability to set up an airplane for landing at a precise speed, direction and rate of descent, the document said.
"He added, 'exactly controlling the descent profile and the lateral profile, that is very stressful.'"
Lee had flown Airbus A320s for Asiana from 2005 until February this year, when he began training to master the bigger 777.
He had 9,700 hours of flight experience, but only 35 hours in the Boeing 777.
Earlier in his career, he had twice landed in San Francisco, once manually, as co-pilot of an Asiana Boeing 747.
In the co-pilot's seat at the end of the 10.5-hour flight was Lee Jung-min, who had 3,200 hours' experience in the Boeing 777 but was only recently certified to instruct other pilots on its operation.
Bill English, the NTSB investigator leading the Asiana probe, said the autopilot was switched off about 4.8 kilometers out and the airspeed dipped as low as 191 km per hour, or 34 knots below the ideal approach speed.
The aircraft descended so low that an array of approach lights at the end of the runway - a key visual aid to landing - showed four red lights, a situation that would call for an aborted landing.
AFP-AP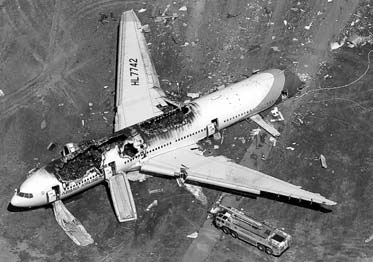 The burned-out wreck of Asiana Airlines Flight 214 lies on the runway after it crash landed at San Francisco International Airport in San Francisco, California. Three teenage Chinese students died in the crash. Ezra Shaw / Getty Images Via Agence France-Presse
(China Daily 12/13/2013 page11)
Today's Top News
Editor's picks
Most Viewed