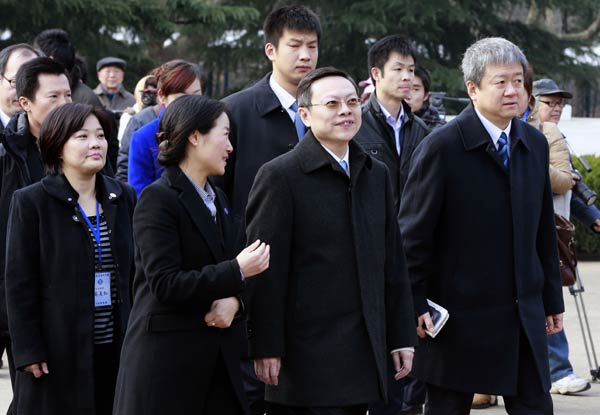 Taiwan's mainland affairs chief (second from right), Wang Yu-chi, paid tribute at the mausoleum of Dr. Sun Yat-sen in Nanjing, Jiangsu province, Feb 12, 2014. [Photo by Feng Yongbin/Asianewsphoto] 
NANJING - Taiwan's mainland affairs chief, Wang Yu-chi, on Wednesday paid tribute at the mausoleum of Dr. Sun Yat-sen, a renowned statesman who led the revolution ending imperial rule in China.
On the second day of his groundbreaking mainland visit, Wang bowed to Dr. Sun's statue in the mausoleum and presented a wreath, before paying tribute to Dr. Sun's sarcophagus.
Born in 1866, Dr. Sun is known for his leading role in the 1911 Revolution, which overthrew the imperial Qing Dynasty (1644-1911) and ended more than 2,000 years of feudal rule in China. He is also considered a founder of Kuomintang (KMT), now the ruling party in Taiwan.
Dr. Sun founded a republican government in Nanjing in 1911 after the fall of the Qing Dynasty. After his death in Beijing on March 12, 1925, his remains were moved to the mausoleum in Nanjing in 1929.
Wang arrived in Nanjing, now capital of east China's Jiangsu Province, on Tuesday morning for a four-day visit. On Tuesday afternoon, he met formally with Zhang Zhijun, head of the State Council Taiwan Affairs Office, in the first such meeting since the KMT, led by Chiang Kai-shek, fled to Taiwan in 1949 after being defeated in a civil war.
Cross-Strait relations over the past 65 years had their worst moment when the two sides almost came to war. However, since 2008, regular talks and closer cooperation, based on the "1992 consensus," have promoted peace and stability in the region, Wang said after the mausoleum visit.
The two sides need to be pragmatic to solve disputes and forge a stable long-term relationship, he added.
At Tuesday's meeting, Zhang and Wang agreed to open a regular communication channel between their departments. Zhang also accepted Wang's invitation to visit Taiwan.
Their meeting is considered a landmark breakthrough in cross-Straits relations and the result of deepening mutual political trust.