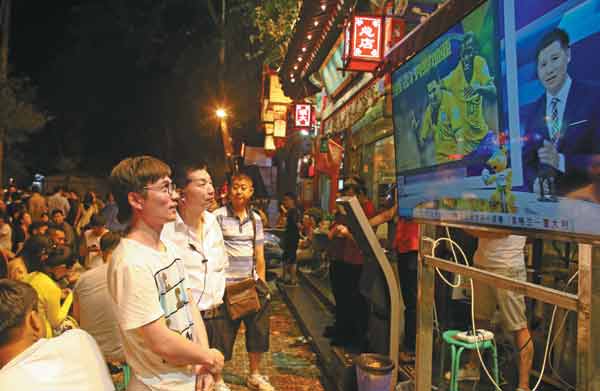 Fans watch World Cup coverage on television during an evening out in Beijing's Guijie Street on Friday. Wang Jing / China Daily
As the World Cup hots up in Brazil, Chinese insurers are adding to the fun of the soccer showpiece by offering special deals for fans.
Packages providing coverage in the event of severe drunkenness or sickness are being touted to supporters by ZhongAn Insurance, China's first Internet-based insurance firm.
The policies include coverage for colds, diarrhea and accidents.
"We designed the products specifically for the World Cup, because most soccer fans drink as they watch the games, and staying up late into the night may result in unexpected situations," said ZhongAn spokesman Wang Yao.
The policies, which are valid for the monthlong tournament, are being offered on Taobao, China's top e-commerce marketplace.
Under the promotion, buyers are entitled to coverage under each category for 3 yuan (48 US cents).
The "World Cup hooligan insurance" package, which has been promoted the most, guarantees compensation of up to 10,000 yuan for those who are attacked or robbed by thugs.
"World Cup over-drinking insurance" compensates those who develop alcoholic poisoning while watching games.
Policyholders who get sore throats or gastroenteritis will be compensated on a case-by-case basis, with 2,000 yuan being paid to cover inpatient costs and 200 yuan for outpatient charges.
Other insurers are joining the fray. Last week, Ancheng Insurance in Chongqing teamed up with Taobao to market "disappointment" policies for fans overly saddened by tournament results. Ancheng offers coverage for supporters of eight teams, including Argentina, France, Spain and Brazil. They can buy 8-yuan plans for coverage in the event of "onfield humiliation". Policyholders can receive up to 49 yuan in compensation if their teams are knocked out during the group stage.
However, sales have not been as strong as expected, with only 26 supporters buying World Cup-related policies offered by ZhongAn on the first day.
Figures from Ancheng were unavailable.
Taobao's parent, Alibaba Group, set foot in the financial sector three years ago when it conducted the first batch of online settlements for insurance firms.
Last August, Taobao and German insurer Allianz launched "Full-Moon" insurance to compensate policyholders who were unable to see the full moon during Mid-Autumn Festival.
Some observers have applauded the development, describing it as "pioneering" and saying the use of big data can help to lower barriers for consumer access to insurance policies. But others have questioned its legitimacy.
"There is no substantial difference to gambling, or at least this is not how genuine insurance coverage works," said Qiu Baochang, head of the legal team at the China Consumers' Association.