BEIJING - China on Friday urged Japan to stop provocative actions and words after a close encounter between Chinese and Japanese military planes over the East China Sea.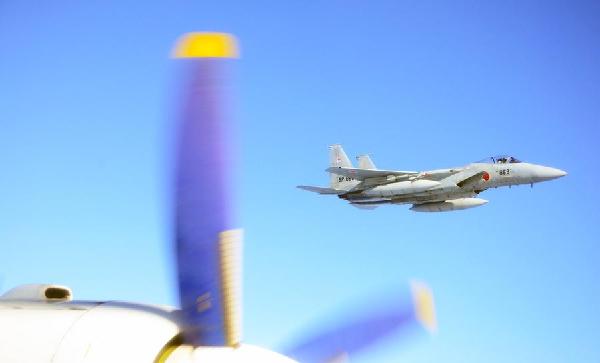 Japanese aircraft stalking Chinese planes at a stunningly close distance above the East China Sea on June 12, 2014. [Photo/Xinhua]
"Facing hard facts, the Japanese side's remarks, in my view, are shameless, nonsense and unreasonable. We urge Japan to immediately stop any provocative actions and words," Foreign Ministry spokeswoman Hua Chunying said at a daily press briefing.
Hua made the remarks when asked to comment on Japan's demand that China remove footage showing the warplane encounter on Wednesday from its defense ministry website.
Geng Yansheng, spokesman for the Ministry of National Defense, on Thursday said that two Japanese F-15 aircraft tailed China's Tu-154 plane, coming as near as 30 meters from the Chinese plane as it conducted a routine patrol over the East China Sea at around 10 a.m. on Wednesday.
The Japanese fighters' actions seriously threatened the safety of China's plane, Geng said.
On Thursday, Hua said the tension was completely triggered by dangerous acts by Japanese warplanes toward a Chinese warplane, while Japan has disregarded the facts and made a false countercharge, openly defamed China and played up the so-called China threat.