All in the family for Canadian moguls stars
Updated: 2014-02-10 07:22:43
( China Daily) Agence France-Presse in Rosa Khutor, Russia
Growing up in a household of three sisters competing in the same freestyle skiing discipline might have led to sibling rivalry, but that wasn't the case with the Dufour-Lapointes of Montreal, Canada.
The three sisters made history on Sunday by reaching the Olympic moguls final where the youngest, Justine, 19, emerged with gold, just ahead of the middle child, Chloe, 22.
And even though Maxime, the elder of the group, had a disappointing final, finishing 12th in the second run, the 24-year-old revealed she was as happy as anyone with her sisters' success.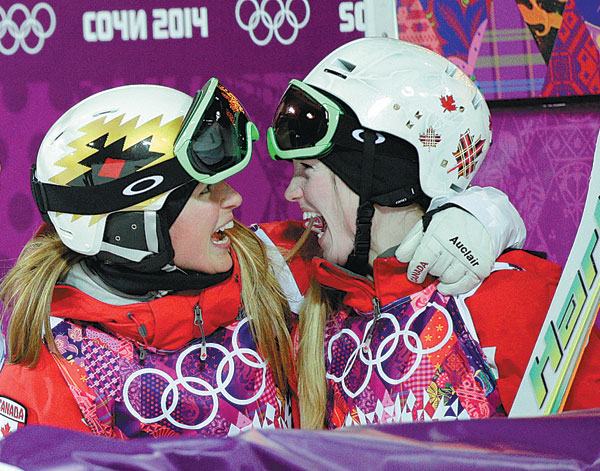 Canada's Justine Dufour-Lapointe (right) is congratulated by her sister, Chloe, after they finished 1-2 in Saturday's moguls final at the Winter Olympics. Jae C. Hong / Associated Press
And the new champion said there was no rivalry in the Dufour-Lapointe household.
"I don't think we ever talk about that, my sister (Chloe) has always been a really good competitor," said Justine.
"Since four years ago, when I saw her at the Vancouver Olympics, I really felt like I wanted to be there like her, compete with her and live that moment also.
"That was of course my point, I wanted to go on that podium ... and with her it's even better.
"My sister is my best friend and, believe it or not, we don't have a rivalry. I'll always be there for her and she'll always be there for me. This is something that I really respect. I don't need rivalry, I prefer someone who'll always be by my side and stick together."
Fighting back tears, Maxime said the joy at her sisters' success was slightly tinged with mixed emotions for her own performance.
"You can see me crying (but) it's not sadness, we're all very emotional girls and it's just coming out," she said.
"There's no disappointment, I'm going home head up and very proud of everything."
Maxime might have been the first Dufour-Lapointe to start in moguls but she said her sisters have outshone her.
"It's their (success), the path that we walked, and we did it side by side. I'm very proud of them," she said.
Maxime may have not wanted to detract from her sisters' glory but Chloe insisted her older sister was just as important a part of the journey.
"Maxime was the one who led the way, she's the oldest in the family but now we're all equal. We support each other, we help each other and this is the best part of being in the Olympics."
But Chloe, who also competed at the Vancouver Games four years ago, admitted there was something extra special about standing on a podium with her younger sister.
"It's the Olympics, it's the big game, you have all the pressure in the world on you," she said.
China Daily in Sochi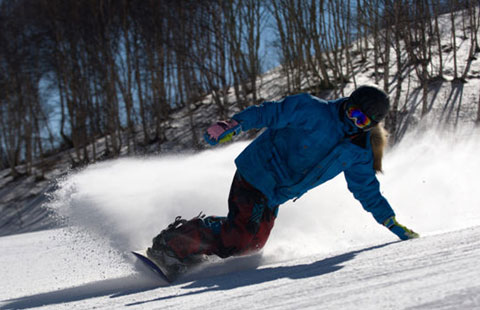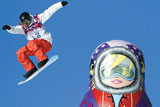 2
1
1
1
1
1
1
1
1
1
0
1
0
1
0
0
1
0