YORK, England - World number three Ding Junhui beat Middlesbrough amateur player Antony Parsons 6-3 in the opening round of the UK Championship in York on Saturday.
Ding, who won the tournament in 2005 and 2009, had to fight off tough challenge from the warehouse worker, who surged from 3-0 down to manage 3-2 before the break.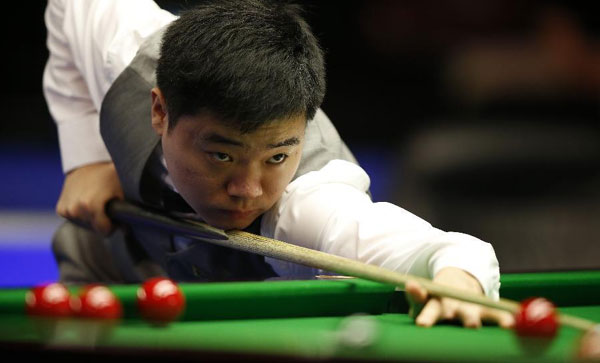 China's Ding Junhui competes during the first round against Antony Parsons of England in 2013 UK Snooker Championship at York Barbican Centre in York, Britain on Nov 30, 2013. [Photo/Xinhua]
The 25-year-old Ding, who had won three consecutive ranking points,  made a top break of 128 in the following frame and took the next to make it 5-2. Parsons pulled it back before Ding sealed the win 6-3.
Ding, the second favorite behind Ronnie O'Sullivan to take the title, was not satisfied with his performance. "I missed many long shots today and I failed to score on many occasions," he said. "It is hard to maintain good form all the time. But winning the match is the most important thing."
O'Sullivan made short work of his first round match by beating amateur Scottish player Rhys Clark 6-0.
The Rocket, winner of last week's Champion of Champions event, pounced upon a number of chances left by his inexperienced opponent and hit top breaks of 82, 71 and 72. He'll play Sheffield's Adam Duffy in the next round on Monday.
"It was tough on him because he's probably not played in those conditions before," said O'Sullivan. "It's like expecting someone to go from a normal golf course to playing at Augusta.
"My form is up and down really. I was playing really well for a sustained period and in the last month or so I just seem to have gone off the boil a little bit. I'm probably not as strong as I was but you just have to be patient.
In the second round, Shaun Murphy fought back from 3-0 down to beat local favorite Paul Davison 6-3. Chinese duo Xiao Guodong and Liang Wenbo also through to the third round.