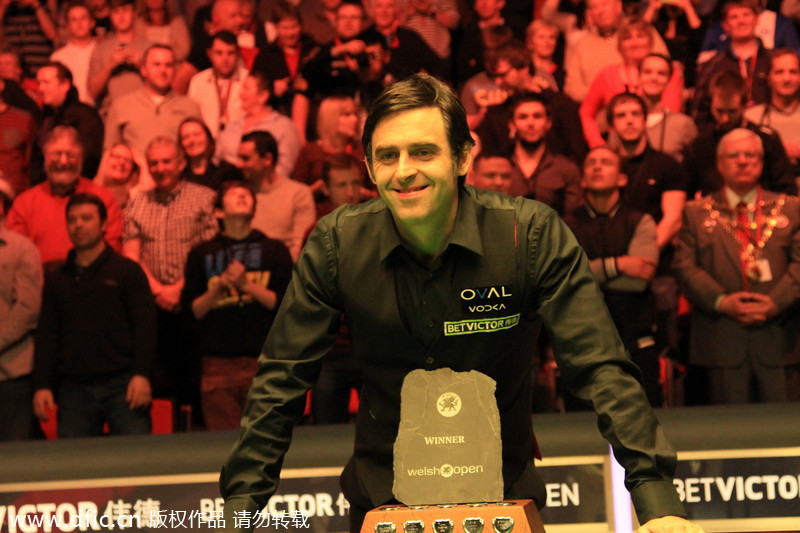 Ronnie O'Sullivan of England poses with the trophy after winning his third Welsh Open title against China's Ding Junhui in Newport, Wales, March 2, 2014. [Photo/icpress.cn]
London - World champion Ronnie O'Sullivan made a record 12th competitive maximum 147 break to round off a 9-3 win over China's Ding Junhui in the Welsh Open final in Newport on Sunday.
The English snooker great had all but assured himself of the title by going 7-1 up in a lopsided first session, although Ding then responded creditably with back-to-back centuries.
However, O'Sullivan quickly resumed control before finishing with a flourish as the normally right-handed potter used his left hand to sink the final black that sealed another maximum break.
A 'kick' on the last blue threatened to curtail the maximum but five-time world champion O'Sullivan then potted the pink before completing the match in style.
Asked when he thought 147 was a possibility, O'Sullivan told BBC Wales: "I think it was on about 48 when I went into reds, they split nicely and I looked at the scoreboard and saw it was all blacks.
"I thought 'no, just get the match won', but on about 60 or 70 I thought 'I've got to go for it'."
As for his change of hands before the last black, O'Sullivan said: "I've made 11 (maximums) right-handed...that counts as a left-handed 147 because if I missed that, it wouldn't have counted!"
Victory saw O'Sullivan add a ranking title to his season's haul of the Masters, Champion of Champions and Paul Hunter Classic.
For Ding defeat left him still one short of equalling Stephen Hendry's record of five ranking titles in one season.
But O'Sullivan, who was winning his third Welsh Open, said: "I want to congratulate Ding. He's won four this season and if he'd won this he would have equalled Hendry's record.
"He's got three or four more events to go and I still fancy he'll do it.
"I hope when I slow down, he can win plenty more - you should enjoy him, he's very special."