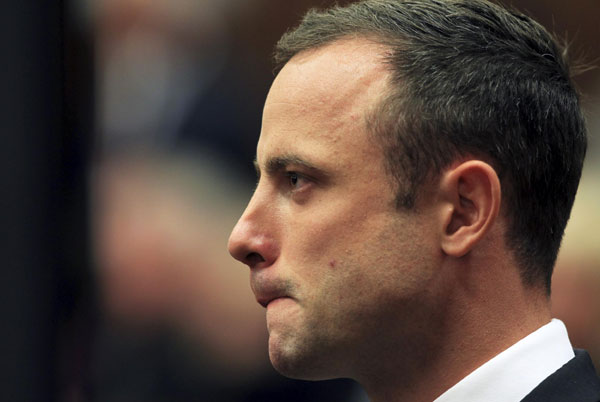 Oscar Pistorius arrives in court ahead of his trial at the North Gauteng High Court in Pretoria March 3, 2014. "Blade Runner" Pistorius arrived at the Pretoria High Court on Monday for the start of his murder trial, opening a decisive chapter in the story of the rise and fall of one of the world's best-known athletes.  [Photo/Agencies]
PRETORIA, South Africa - The mother of the woman Oscar Pistorius shot to death arrived at the Pretoria courthouse to watch the opening of his murder trial, after saying that she wants to look him in the eyes when he comes into the courtroom.

June Steenkamp, the mother of model Reeva Steenkamp, who was killed by Pistorius, arrived at the courthouse dressed in black and looking somber. She was quoted in the Pretoria News, which published an interview she gave to a British newspaper, saying that she wants to see Pistorius.

"I want to look at Oscar, really look him in the eyes, and see for myself the truth about what he did to Reeva," said June Steenkamp, 67. "Whatever the court decides at the end of his trial, I will be ready to forgive him ... But first I want to force him to look at me, Reeva's mother, and see the pain and anguish he has inflicted on me. I feel I need that."

Steenkamp's mother was seated on the same bench in court as Pistorius' family, and behind and to the right of where Pistorius was due to sit, so there is a possibility that their eyes will meet immediately.

Pistorius' brother and sister, Carl and Aimee, also arrived at the courthouse, before the trial was scheduled to begin.

A drone carrying cameras flew over the entrance to the courthouse to capture the scene as under grey, drizzly skies, family members, journalists and lawyers arrived. Several broadcasters massed live broadcast satellite trucks around the courthouse.

The intense public interest in the Pistorius trial is shown by the launching Sunday night of a 24-hour cable channel devoted to covering the court case.

The start of the trial marks the start of a dramatic new chapter in the life of the double-amputee athlete who ran at the Olympics and became a global star before he shot his girlfriend to death.