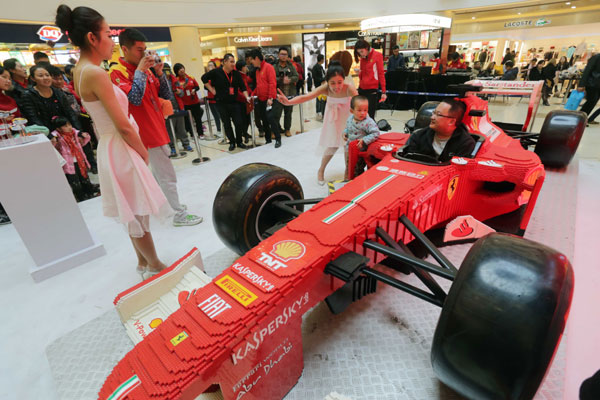 A racing car model built from Lego interlocking plastic bricks in a shopping mall in Weifang, Shandong province. ZHANG CHI/CHINA DAILY
A sales slump in North America and flat conditions in Europe are being offset by strong growth in Asia, especially China, executives of The Lego Group said.
Lego, the Denmark-based toys and games giant known for its interlocking plastic bricks, managed an 11 percent global sales increase in 2013.
But sales in China soared nearly 50 percent, according to the company's annual results.
The company will establish a regional headquarters in Shanghai. It will break ground on a plant in the city's Jiading district. That factory is expected to begin operations in 2016, serving the entire Asian market.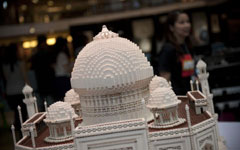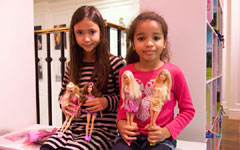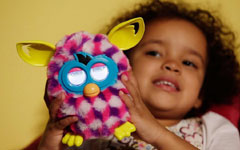 The new facility in Shanghai will adopt the same technology, automation systems, safety standards and product quality standards as those used in any other facility of the group, said Bali Padda, chief operating officer.
But Lego faces tough competition from a vast number of domestic and foreign toy producers in China.
According to research firm Euromonitor International, even the company with the single largest market share since 2008 - Guangdong Alpha Animation & Culture Co Ltd - had just 4.4 percent of the market in 2012.
Lego lurked at the bottom of the top 10 list, achieving a market share of 1 percent in 2012.
The competition not only comes from domestic brands but also from overseas ones.
Billy Wong, principal economist in the research division of the Hong Kong Trade Development Council, said competition in the Chinese toy market is intensifying.
Almost every global toy giant has a factory of its own in mainland China, while others source toys from local manufacturers.
"Most of the major international toy enterprises have also made inroads into the mainland market by appointing sales agents or setting up their own marketing operations there. Some examples are Mattel Inc and Hasbro Inc of the US and Sega Corp of Japan," he said.
Many toy companies have tapped into the fast growing e-commerce market - and Lego is no exception. In just a month after going online in 2011, it achieve sales of more than 1 million yuan ($162,720).
"As urban dwellers' incomes rise and their quality of life improves, their demand for toys changes.
"There is a shift away from traditional, medium-to low-quality battery-operated toys, construction sets and decorative toys toward innovative electronic toys, intelligent toys as well as upmarket plush toys and decorative cloth toys," Wong said.
Jorgen Vig Knudstorp, chief executive officer of Lego, said that despite forecasts of a stagnant world toy and games market globally, he's confident about the company's growth prospects.
Lego invested more than 2.6 billion Danish krone ($4.79 million) last year to expand its capacity all over the world.