Big names drafted by fledgling four-team professional circuit
World No 1 Rafael Nadal has been drafted by Team Mumbai, while Novak Djokovic will headline Team Dubai and top WTA star Serena Williams will be the face of Team Singapore in the inaugural edition of the International Premier Tennis League (IPTL).
Team owners and IPTL organizers - led by Indian doubles star Mahesh Bhupathi, the managing director of the league - held a draft on Sunday in Dubai, where $23,975,000 was spent across four teams to be based in Bangkok, Mumbai, Dubai and Singapore.
Nadal will be joined by 14-time Grand Slam champion Pete Sampras on Team Mumbai, while Djokovic has fellow Serb Janko Tipsarevic, ex-world No 1 Caroline Wozniacki and Arab No 1 Malek Jaziri as his allies.
Teams owners are allowed to have up to 10 players on their roster.
"We've got some unbelievably strong teams. I think out of the 28 players that got drafted we have about 21 Grand Slam champions. We have 14 present and past number ones. It's a pretty blockbuster field," Bhupathi said.
Partly inspired by the financially-successful Indian Premier League (IPL), the IPTL has been described by Djokovic as a "fantastic concept" while Roger Federer - a notable absentee from the player field - has been more cautious in his views on the idea.
"Firstly, I want to see whether it takes off or not," Federer told reporters in Dubai last week.
"I know a lot of people have invested in it or are part of it. Anywhere where tennis grows is a good thing, so I hope it takes off and becomes very successful.
"In Asia, there is enormous potential - in places like China and India, due to the amount of people that live there and the excitement they have for tennis."
Asia's top male and female players, Kei Nishikori and Li Na, are also missing from the player field, along with career Grand Slam champion Maria Sharapova.
Former world No 1 Carlos Moya attended the draft, where he was picked by Team Bangkok to play alongside British two-time major champion Andy Murray.
The Spanish star is not only a participant but is also the vice-president of player relations for the league.
"I'm very excited to be part of this competition, and look forward to playing for Bangkok. I have fond memories from the days I played there," said Moya.
The league will play during the offseason of the tennis calendar, between Nov 27 and Dec 14, and will feature 24 matches across the four host cities in the Middle East and Asia.
Each match will follow a best-of-five format comprised of separate sets contested in men's singles, women's singles, men's doubles, mixed doubles and past champions singles, with the home team choosing the order of play prior to each match.
Play is scheduled to start in Singapore, followed by Bangkok, Mumbai and Dubai.
Each city will host six matches in a three-day period and each team will have a regular roster and a travel roster that will have to include a minimum number of players from the different categories.
The concept is the brainchild of Bhupathi, who believes it can have a revolutionary effect on tennis.
He is joined at the helm by Morgan Menahem, the CEO if the league who also happens to be the agent for French star and world No 10 Jo-Wilfried Tsonga.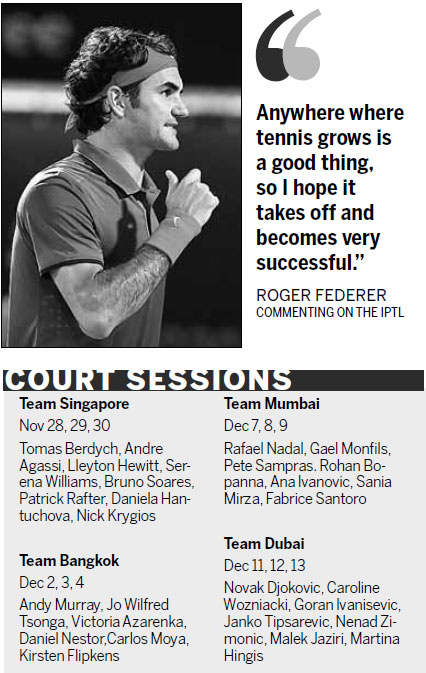 (China Daily 03/04/2014 page23)