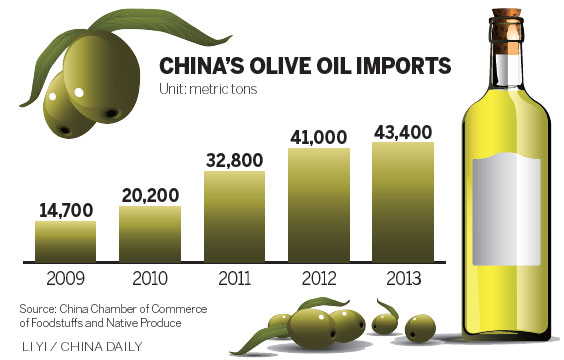 International olive oil producers are counting on China to increase their earning strength because the nation appears to have developed a taste for the healthy oil.
Because China's climate is not suitable for mass olive production and more Chinese are realizing olive oil is generally healthier than most cooking oils, imports have surged in recent years, especially in top-tier cities such as Shanghai and Shenzhen, where 80 percent of olive oil shipped from Spain, Italy, Australia and Turkey is consumed.
Jean-Louis Barjol, executive director of the Madrid-based International Olive Council, the world's only international intergovernmental organization in the field of olive oil and table olives, said because China's huge middle class is very conscious about
food
quality and health issues, the Mediterranean diet, which uses plenty of olive oil, is a practical way to maintain health.
"The numerous television advertisements released recently by Chinese olive oil importers and the campaigns led by export countries' trade-promotion bodies to explain the uses of olive oil have resulted in a significant increase in sales, as well as the opening of hypermarkets in the nation's main cities selling imported foods," Barjol said.
"We found people in China are more inclined to buy extra-virgin olive oil, which does not require refining and is 20 percent more costly than refined olive oil," said Amparo Chozaz, assistant managing director of the Spanish Olive Oil Exporters Association in Madrid.
Eager to gain more market share from their already established rivals from Italy and Greece in the China market, Spanish olive oil companies chose to join together in promoting their products under the name Spanish olive oil in the China market.
Chozaz said they spent 4.5 million euros ($6.19 million) on popular cooking programs featuring Spanish olive oil on Chinese TV stations, commercial websites and magazines. They also held national food events to boost their olive oil exports to China in 2013.
With 2.5 million hectares of planting area and 310 million olive trees, Spain contributes more than half of the world's total olive oil production. It shipped 18,700 metric tons of the oil to China in the first three quarters of 2013, up 13 percent from the same period a year earlier, according to the Beijing-based China Chamber of Commerce of Foodstuffs and Native Produce.