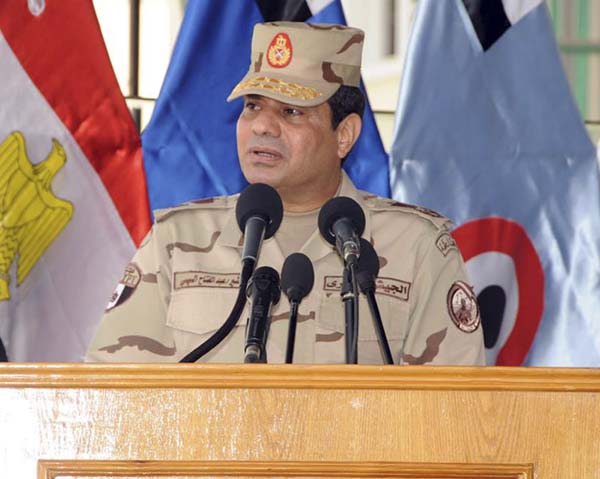 Egypt's army chief Field Marshal Abdel Fattah al-Sisi speaks during a ceremony to mark the end of the basic military training preparation period for college students and military academics at the military college in Cairo, in this March 4, 2014 handout provided by Egypt's Ministry of Defence. [Photo/Agencies]

CAIRO  -- Egypt's army chief and defense minister Abdel-Fattah al-Sisi said Tuesday he couldn't turn his back to calls by the majority of people asking him to run for president, official news agency MENA reported.
"The coming days will witness the official procedures of candidacy," said Sisi during a ceremony marking the end of a basic military training for students of the armed forces schools and institutes.
The nation is going through difficult circumstances which require the unity of the people, army and police, he said, adding that "No one could alone help the country in such conditions."
Experts said that Sisi is waiting for the presidential law to be approved before announcing his official presidential bid.
Sisi remained as a defense minister in the new interim cabinet, and if he decides to run for president he should resign from his military posts and apply as a civilian according to the constitution.