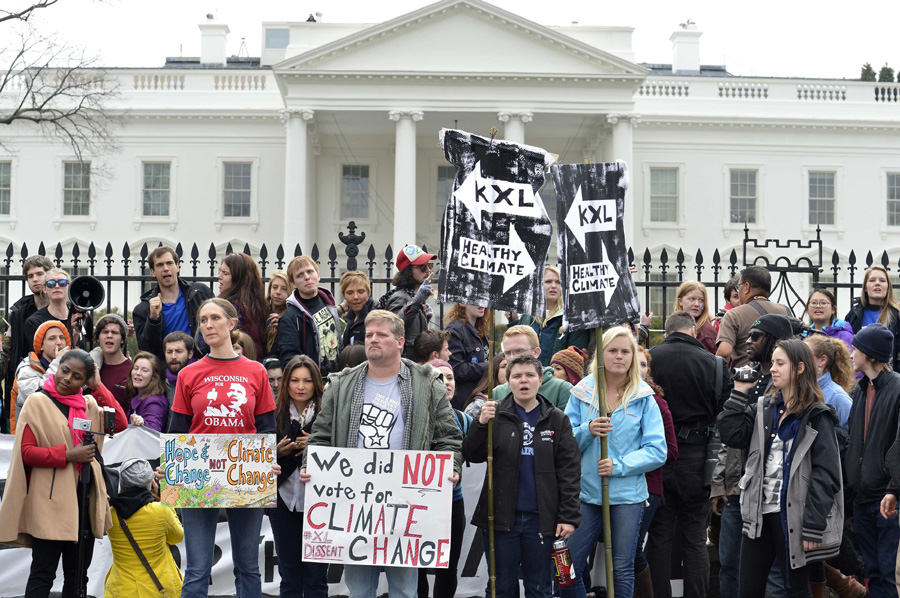 Environmentalists, many who have zip-tied themselves to the fence of the White House, rally and call on President Barack Obama to reject the Keystone XL pipeline, in Washington, March 2, 2014. Up to 1,000 protesters demonstrated against Keystone, which would carry 800,000 barrels a day of crude oil from Canada to the US Gulf, on Sunday outside Secretary of State John Kerry's house in Washington before risking arrest at the White House. The State Department acted properly in its choice of an outside contractor to review Keystone, a US report said on Wednesday. Environmentalists said the report showed the approval process was irresponsible and vowed to keep fighting Keystone. [Photo/Agencies]
WASHINGTON - Police arrested hundreds of young people protesting the Keystone XL project on Sunday, as demonstrators fastened themselves with plastic ties to the White House fences and called for US President Barack Obama to reject the controversial oil pipeline.
Participants, who mostly appeared to be college-aged, held signs reading: "There is no planet B" and "Columbia says no to fossil fuels," referring to the university in New York City.