Amicable split ends two years of success for talented tandem
Britain's Andy Murray and coach Ivan Lendl have mutually agreed to end their two-year partnership, the Wimbledon champion announced on Wednesday.
In a joint statement on Murray's website, it appeared Czech-born Lendl had been the instigator of the split.
"Working with Andy over the last two years has been a fantastic experience for me," said Lendl.
"He is a first-class guy. Having helped him achieve his goal of winning major titles, I feel like it is time for me to concentrate on some of my own projects, including playing more events around the world ... which I am really enjoying."
Murray, who under Lendl's guidance won an Olympic gold medal, the 2012 US Open and last year's Wimbledon title, said: "I am eternally grateful to Ivan for all his hard work over the past two years, the most successful of my career so far.
"I will take some time with the team to consider the next steps and how we progress from here," said Murray, who continues his return from back surgery and is preparing to defend his title at the Miami Masters Sony Open.
Australian Matthew Ebden will be the first opponent for Murray after the Scot revealed his split with Lendl.
Ebden, ranked 67th in the world, booked his Friday match against the reigning Wimbledon champion by defeating Poland's Lukasz Kubot 4-6, 6-4, 6-4 as men began play Wednesday at the ATP and WTA hard-court event.
Murray beat Ebden in their only previous match, a Shanghai quarterfinal three years ago.
Murray was already one of the most talented players of his generation but it was only when working with Lendl, who like the Scot lost his initial Grand Slam final, that he became a major winner.
Their first significant joint triumph was at the London Olympics before Murray, with eight-time major winner Lendl in his corner, won the US Open - his first Grand Slam title.
But even that success was topped by Murray's victory over Novak Djokovic in last year's Wimbledon final, a win that saw him become the first British player since Fred Perry 77 years earlier to win the men's singles title.
"I will always be in Andy's corner and wish him nothing but great success as he too goes into a new phase of his career," said 54-year-old Lendl.
Murray, 26, was first introduced to tennis by his mother, Judy, now the captain of the British women's Federation Cup team.
But as a professional player he worked with several coaches including compatriots Mark Petchey and Miles Maclagan, as well as Spain's Alex Corretja and American Brad Gilbert before joining forces with Lendl in December 2011.
Although Lendl had no track record as a coach, he was widely regarded as the man capable of turning Murray into a champion given he too had lost his first four Grand Slam finals.
Murray, speaking after his Wimbledon triumph, said of Lendl: "He has made me learn more from the losses than I did before and he has always been very honest with me and believed in me when other people maybe didn't.
"Ivan has been very patient, as I am not always easy to deal with. He is also honest with me.
"If I work hard he is happy, if I don't he is disappointed and he will tell me. He has got me mentally slightly different going into these big matches."
Although Murray's form has dipped since his Wimbledon victory, most observers attribute the downturn to his back injury and subsequent surgery.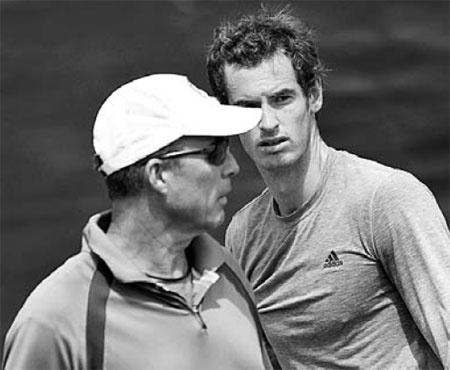 Andy Murray (right) and his coach Ivan Lendl attend a training session at the 2013 Wimbledon Championships at the All England Club in London. Adrian Dennis / AFP
(China Daily 03/21/2014 page23)