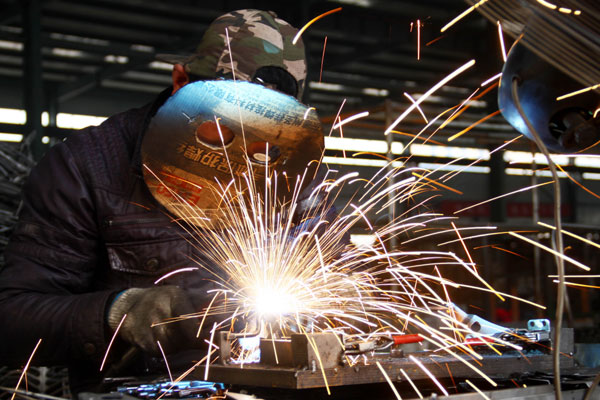 A welder assembles strollers at a factory in Zaozhuang, Shandong province. China's manufacturing PMI was 50.2 in February, a decline from 50.5 in January. Provided to China Daily 
China's service sector brightened in February, boosted by post-holiday business activity, but the overall economic prospects are still shadowed by a continuing slowdown in the manufacturing sector.
The official non-manufacturing Purchasing Managers' Index, a key indicator of service activities, rose to a three-month high of 55 in February from 53.4 in January, according to a Monday statement from the China Federation of Logistics and Purchasing.
Meanwhile the HSBC manufacturing PMI, also out on Monday, stood at an eight-month low of 48.5, down from 49.5 a month ago, signaling further deceleration in economic growth, while the official figure on Saturday by the China Federation of Logistics and Purchasing was barely above the critical 50mark.
A PMI reading above 50 indicates expansion on the previous month while anything below indicates contraction.
Analysts said the distinction was largely a result of the Spring Festival, China's lunar New Year, in early February, which created seasonal demand for service activities but closed down small factories, which form the major sample for HSBC's index survey.
China Federation of Logistics and Purchasing Vice-Chairman Cai Jin attributed the rebound in the services PMI mainly to robust business activity after the spring festival. "Rising activity, especially in the service sectors, laid a solid foundation for steady economic growth," Cai said.
The non-manufacturing PMI covers services including retail, aviation and software as well as the real estate and construction sectors.
But judging from the manufacturing sector, HSBC chief China economist Qu Hongbin said signs are becoming clear that "the risks to gross domestic product growth are tilting to the downside", which calls for policy fine-tuning measures to stabilize market expectations and steady the pace of growth in the coming quarters.
Don't miss: