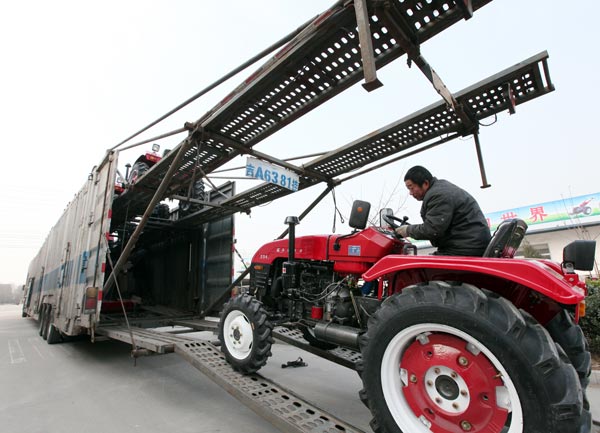 Tractors are loaded in Tengzhou, Shandong province, for delivery to dealers and customers in northeastern China. The flash estimate for the manufacturing Purchasing Managers' Index for February slid to a seven-month low of 48.3, HSBC Holdings Plc said on Thursday. SONG HAICUN/XINHUA 
China's manufacturing activities are likely to contract for a second consecutive month in February, reaching their lowest point since July, British bank HSBC Holdings Plc said on Thursday.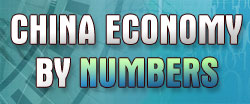 The manufacturing Purchasing Managers' Index is forecast to drop to a seven-month low of 48.3 from 49.5 in January and 50.5 in December, due to slumps in each sub-index, including output, new orders and employment, HSBC said.
The flash reading of the HSBC manufacturing PMI in February may have reflected renewed destocking activities as new orders and production contracted, said Qu Hongbin, chief economist in China and co-head of Asian Economic Research at the bank.
"The building up of disinflationary pressures implies that the underlying momentum for manufacturing growth could be weakening," said Qu, who still expressed confidence about the government's current policy and possible fine-tuning to stabilize growth.
Louis Kuijs, chief economist in China at the Royal Bank of Scotland, said "not to read too much" into the weak February PMI reading as the Lunar New Year holidays made it difficult to interpret the figure.
"We remain quite confident that most of China's growth drivers remain in place, and the global economy is recovering, and this will help China's economy, too," he said.
Kuijs said the economy will not slow dramatically, because of strong credit and financing support that was released by the central bank.
In January, new loans increased to 1.32 trillion yuan ($218 billion), compared with 482.5 billion yuan in December, and total social financing rose to 2.58 trillion yuan from 1.23 trillion yuan in December, data from the People's Bank of China, the country's central bank, showed. The growth rates of both readings were higher than expected.
The central bank highlighted the facts that the economy's dependence on investment and debt financing continues to rise and that potential risks in the financial sector are the key concerns.
Don't miss: