Government promises stable policies, steady economic growth
Since the global financial crisis six years ago, Indonesia became the darling of investors, then a pariah, and is now making its way back.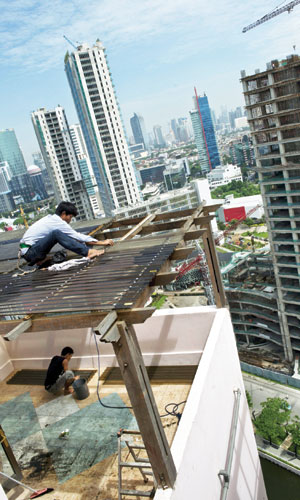 Workers carry out construction work on an apartment unit in Jakarta. Southeast Asia's biggest economy is growing rapidly and is a treasure trove of opportunities for private equity investors. AFP 
Most of these swings in perception match similar swings in the country's economic environment. Throughout 2011, Indonesia was widely touted as the next big story among emerging markets.
But a series of setbacks that started in 2012 and lasted through much of last year put investors on the defensive. They were scared away by rising inflation, slowing economic growth and issues with the national currency.
"The Indonesia market has been in turmoil since June 2013 as the currency began to depreciate and a small currency crisis broke out," says Li Yao, CEO of the China-ASEAN Investment Cooperation Fund.
"Several large emerging markets - Indonesia, India, Brazil - all saw turmoil both in foreign exchange markets and capital markets. Therefore, the overall return is less stable than in 2012."
Indonesia's stock markets have also faltered. As with most markets in Asia (except Japan), performances were weak.
"Indonesia's performance was less impressive compared with developed markets, such as Japan, Europe and the US, which were doing quite well," says Li.
In the broader economy, growth continued to slow in 2013, but the government also started putting in place a series of policies to stabilize the economy, control inflation and secure stable growth. The emphasis was on "stable".
Indonesia is not quite out of the hot water yet, but it is on its way. The country is starting to make a comeback. Investors are taking a second look, aware that the challenges over the past two years have opened up doors that were firmly closed before and have even created new opportunities.
"The turmoil in the Indonesia market actually provided us with more negotiating (opportunities)," says Li.
He adds that it is unknown whether the turmoil will continue, "but Indonesia has abundant exchange reserves and the government has learned lessons from the financial crisis in 1997 and has been making great efforts to deal with the crisis".