$4.16 trillion in merchandise trade pushes nation ahead of US
China replaced the United States to become the world's largest merchandise trader in 2013, a milestone in the country's decades-long trade expansion path, the Ministry of Commerce said on Saturday.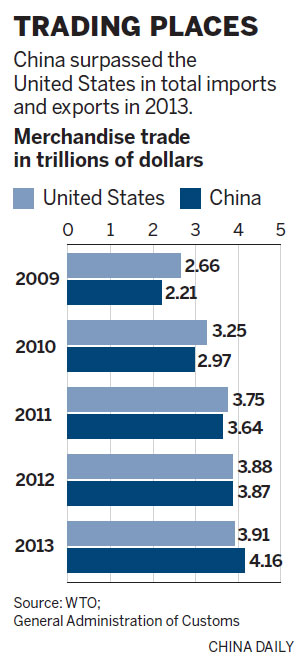 "According to the preliminary statistics of the World Trade Organization Secretariat, China was the leading merchandise trader in 2013. China's merchandise trade totaled $4.16 trillion in 2013 with exports reaching $2.21 trillion and imports of $1.95 trillion," the ministry said in a statement on its website.
The statistics matched the figures released by China's General Administration of Customs on Jan 10.
Data from the US Commerce Department showed on Feb 6 that the US' combined exports and imports stood at $3.91 trillion in 2013, about $250 billion less than China's.
In 2012, the US was still the world's biggest trader in merchandise, with imports and exports totaling more than $3.88 trillion. China closely followed, with merchandise trade totaling almost $3.87 trillion in 2012, according to the WTO.
In 2009, China became the world's largest exporter and second-largest importer.
"As a developing country, China's achievement of becoming the world's leading goods trader marks the country's new milestone in the path of developing foreign trade and is also a great fruit of its pursuit of reforms and opening-up as well as engagement in globalization," Commerce Ministry spokesman Yao Jian said in a statement on the ministry's website on Saturday.