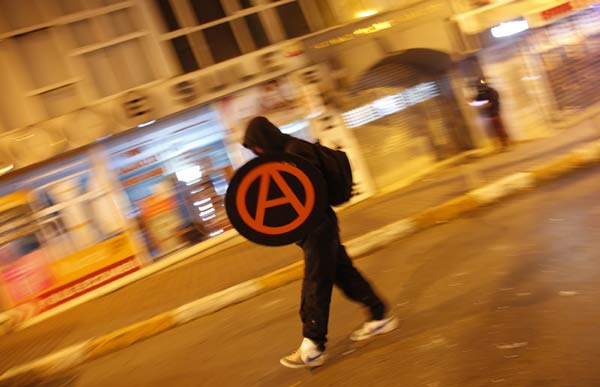 A protester walks with a makeshift shield marked with an anarchist symbol during an anti-government protest in central Istanbul March 1, 2014.
  [Photo/Agencies]
ISTANBUL - Thousands of people staged fresh anti-corruption protests Saturday in Turkey's coastal city of Istanbul over a leaked recording that came up earlier this week implicating the country's prime minister.
Demonstrations have been off and on across Turkey since the audio came under the spotlight. A phone conversation was allegedly recorded between Prime Minister Recep Tayyip Erdogan and his son Bilal on hiding a big sum of money from police raids.
In Istanbul, demonstrations were held in the centers of several districts Saturday, demanding the government's resignation. In Kadikoy district, protesters marched with huge safe boxes, symbolizing the money allegedly found Bilal's house.
Almost 1,000 riot policemen were present in iconic Taksim Square and Istiklal Street, firing tear gas to prevent people from entering the square.
In a separate rally marking the 17th anniversary of the February 28 coup, demonstrators in Istiklal Street protested "a parallel structure within the state" that they said controlled by US- based cleric Fethullah Gulen.
Gulen's Hizmet movement is accused by the government's supporters of running the "parallel state" and conducting a power struggle with the ruling Justice and Development Party.
Analysts say the power struggle, the ongoing corruption probe and the recent audio scandal have deepened the polarization of the Turkish society.