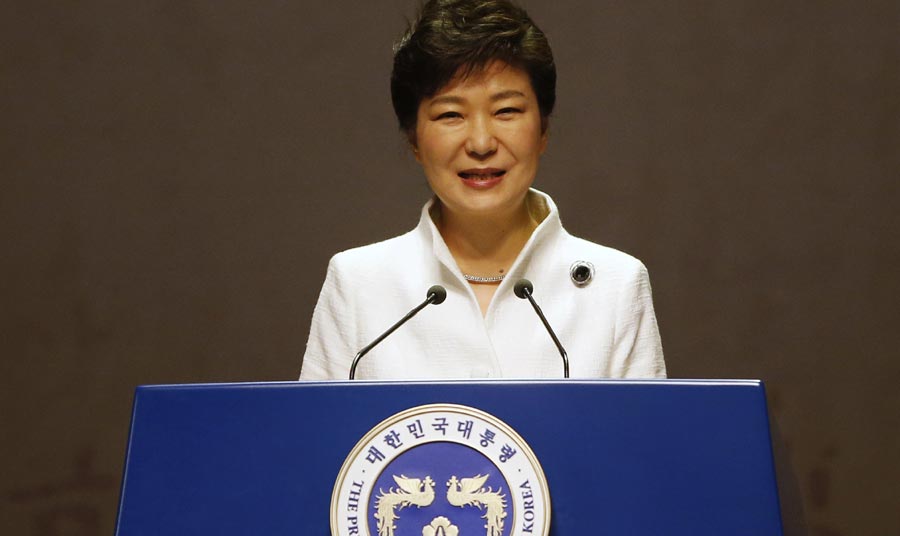 South Korea's President Park Geun-hye delivers a speech during a ceremony celebrating the 95th anniversary of the March First Independence Movement against Japanese colonial rule in Seoul March 1, 2014. [Photo/Agencies]
SEOUL -- South Korean President Park Geun-hye on Saturday urged Japan to face up history with courage following the precedent of post-war Germany to patch up the icy relation between Seoul and Tokyo.
Park made the call at a ceremony marking South Korea's 1919 nationwide uprising against Japan's 1910-45 colonial rule.
She said the true courage comes from looking at history in a right way instead of denying the past, demanding Japan to impart the correct history to the growing generation.
"I believe the Japanese government should make the right and courageous decision so that the two countries will be able to overcome the painful history and move toward a future of new prosperity," Park was quoted by Yonhap as saying.
Park especially urged Japan to show its responsible attitude and properly handle the long-running sex slave issues as it is becoming more urgent than ever.
More than 200,000 young women, many of them South Koreans, were forced into sex slavery at the Japanese military brothels during the devastating world war triggered by the Japanese militarists. Among the 237 South Korean women who identified themselves as former sex slaves, only 55 are alive.
Japanese Chief Cabinet Secretary Yoshihide Suga on Friday said the government will set up a team to reexamine an official statement apologizing to sex slaves of the Japanese military during World War II, made by then Chief Cabinet Secretary Yohei Kono in 1993. South Korea denounced Japan's latest move as an attempt to deny its wartime atrocities.
Ties between Seoul and Tokyo have been strained since Abe returned to power in December 2012. Abe infuriated its Asian neighbors by visiting the notorious Yasukuni Shrine in December 2013, as it honors 14 convicted class-A war criminals during World War II.
Park, who was sworn in as the head of state in February last year, has refused to hold summit with Abe, citing his wrong perception of history and no repentance over past atrocities.