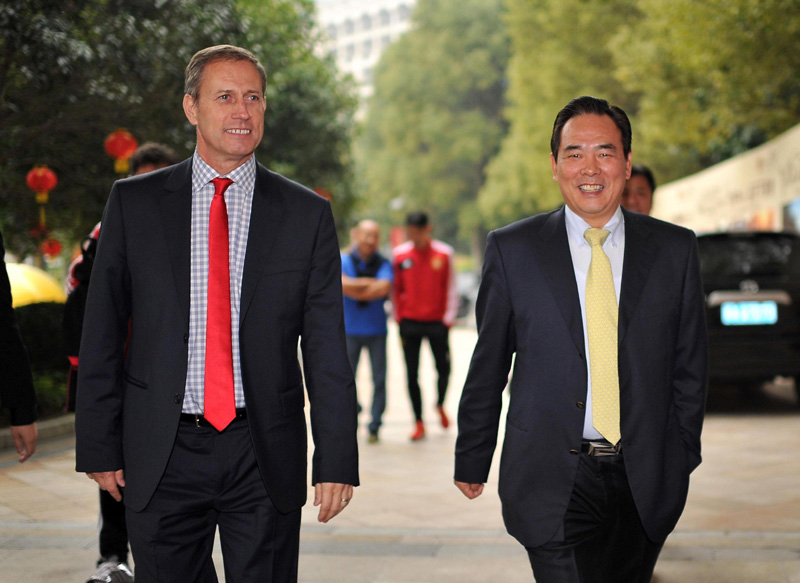 China's new national soccer coach Alain Perrin (left) from France and Cai Zhenhua, president of the Chinese Football Association (CFA) arrive at a news conference to announce the Frenchman's appointement in Qingyuan of Guangdong province, Feb 28, 2014. [Photo/Xinhua]
QINGYUAN, Guangdong Province - Frenchman Alain Perrin has been named coach of the Chinese national soccer team, the Chinese Football Association announced on Friday.
The 57-year-old steered the French side Lyon to a Ligue 1 and French Cup double in 2008. He also managed French Ligue 1 club Saint-Etieme and had an eight-month stint at English Premier League team Portmouth in 2005.
"This will be my biggest responsibility ever in my career because China is the biggest country," Perrin said at the press conference.
The Chinese national team's former coach Jose Camacho was sacked last July after the humiliating 5-1 loss to Thailand in a friendly game in June 2013.
Perrin is expected to carry Chinese hopes in the 2015 Asian Cup in Australia and to seek the qualification for the 2018 FIFA World Cup finals.
"Our target is World Cup 2018. I also like to contribute to youth and general football development in China," Perrin said.
The Chinese national team arrived at Qingyuan, a small city in the north of Guangdong Province, on Wednesday afternoon and began their preparation for their final match against Iraq in an Asian Cup qualifier next Wednesday in Dubai.
Chinese interim coach Fu Bo will continue to coach the match, which is his last one in charge. It is reported that Perrin will fly to Dubai with the Chinese team and watch the game.
A draw will see the Chinese team through to the Asian Cup finals as the second-placed team in group.