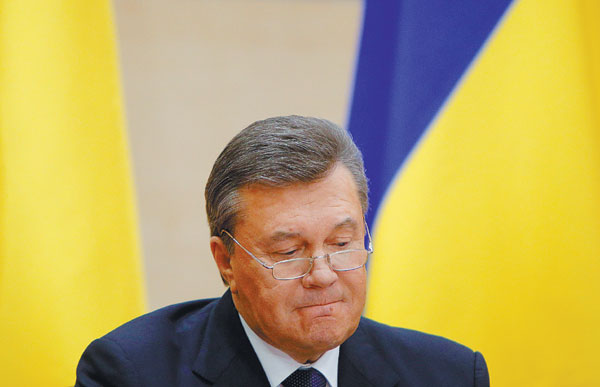 Ousted Ukrainian President Viktor Yanukovich takes part in a news conference in the southern Russian city of Rostov-on-Don February 28, 2014. Yanukovich, appearing in public for the first time since he was ousted as Ukraine's president, said in Russia on Friday he would not give up the fight for his country's future.[Photo/Agencies]
Deposed president Yanukovych comes out of hiding in Russia
Ukraine accused Russia of staging an "armed invasion" of Crimea on Friday and appealed to the West to guarantee its territorial integrity after pro-Moscow gunmen took control of the peninsula's main airport.
Amid spiraling tensions in the former Soviet state, the country's ousted president Viktor Yanukovych prepared to emerge defiant from five days of hiding after winning protection from the Kremlin.
Unidentified armed men were patrolling outside Crimea's main airport early on Friday, while other gunmen reportedly seized an airfield on the southwest of the peninsula where ethnic Russians are a majority and where pro-Moscow sentiment runs high.
Ukraine's Parliament on Friday appealed to the United States and Britain to uphold a 1994 pact signed with Russia that guaranteed the country's sovereignty in return for its giving up its Soviet nuclear arsenal.
Tensions continued to soar by the hour in the Russian-speaking Crimea - a scenic Black Sea peninsula that has housed Russian naval forces for nearly 250 years.
Ukraine's Interior Minister Arsen Avakov accused the Russian armed forces of being directly involved in early-morning raids on an airport in Crimea's main city of Simferopol as well as at an airfield on the southwestern coast.
AFP reporters saw dozens of men armed with Kalashnikov assault rifles encircle the Simferopol airport on Friday morning after reports suggested they had briefly seized control of its runway.
An administrator said the "airport was operating normally" on Friday morning despite the presence of the armed men in battle fatigues.
Unconfirmed reports by Ukrainian media said armed men had also seized the Belbek airfield near the city of Sevastopol, which is home to Russia's Black Sea fleet.
'No support sought'
Ousted Ukrainian President Viktor Yanukovych said on Friday he would not ask Russia for military support to resolve domestic crisis. "Any military operation is unacceptable in that situation ... I'll return to Ukraine as soon as my and my family's safety are guaranteed," he told a news conference in Russia's Rostov-on-Don, some 1,000 km southwest of Moscow, in his first public appearance after a weeklong hiding. Yanukovych said he was surprised that Russian President Vladimir Putin had been "silent".
"I haven't met Putin, only spoke to him by phone. We agreed to meet when he'll find such an opportunity," he said. "After a meeting with Putin, I'll understand his position, and we'll discuss these issues."
He added that it did not mean Russia must do anything but Russia could not stay indifferent to the fate of such a big partner as Ukraine.
However, Yanukovych stressed that he was "categorically against intervention into Ukraine".
The ousted president blamed "irresponsible" Western powers for chaos and lawlessness in his country.
"Outcome of the crisis will be difficult as a result of irresponsible Western policy of supporting Maiden (the Independence Square)," he said.