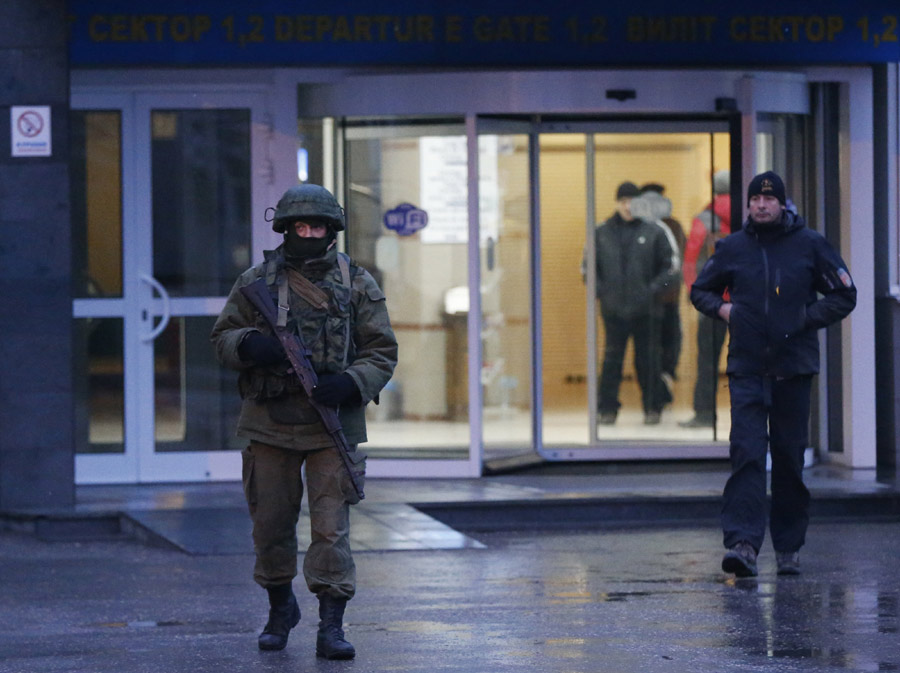 An armed men patrols at the airport in Simferopol, Crimea, Feb 28, 2014. A group of armed men in military uniforms have seized the main regional airport in Simferopol, Crimea, Interfax news agency said early on Friday. [Photo/Agencies]
BEIJING - An armed group took control of the airport of Crimea's capital Simferopol in southern Ukraine on Friday, one day after Ukrainian security forces were put on alert in response to unidentified gunmen's seizure of local government and parliament buildings.
Some 50 armed men carrying Russian navy flags took control of the airport overnight after arriving in trucks, the Interfax news agency reported.
Witnesses were quoted as saying that the armed men were wearing the same gear as those who seized local government buildings in Simferopol.
On Thursday, security forces in Crimea were put on alert after an armed group had seized local government and parliament buildings.
"A squad of unknown persons armed with automatic weapons and machine guns, seized the buildings in Simferopol, Crimea. Internal troops and the police officers were alerted," interim Interior Minister Arsen Avakov said in a statement.
Around 120 armed men stormed and seized two administrative buildings early on Thursday. Witnesses said a Russian flag was raised over both buildings. The Ukrainian General Prosecutor's Office has opened a criminal case into the incident, on suspicion of terrorist attack.
The Crimean Peninsula is a Russian-speaking Ukrainian region, where a lot of ethnic Russians and Crimean Tatars live. The region occasionally witnesses clashes between different ethnic groups.
Tensions escalated in the area this week following the dismissal of Kremlin-friendly President Viktor Yanukovych, who was reportedly to hold a news conference Friday in the southern Russian city of Rostov-on-Don, not far from the Ukrainian border.
Meanwhile, Parliament Speaker Alexandr Turchynov, who is also Ukraine's acting president, urged Russian naval troops to refrain from going beyond the base of the Black Sea Fleet on the Crimea Peninsula.
Any troop movements outside the base "will be considered as military aggression", he told parliament.
In April 2010, Ukraine renewed the lease of Russia's Black Sea Fleet on its Crimean Peninsula by 25 years in exchange for gas price discounts.
Turchynov's remarks came one day after Russian President Vladimir Putin's order for soldiers to be ready for war games near Ukraine, the Kremlin's boldest gesture since Yanukovych was ousted at the weekend.
However, Moscow denied that the previously unannounced drill in its western military district, which came amid a series of increasingly strident statements about the fate of Russian citizens and interests, was linked to events in Ukraine.
The snap drills had been aimed to check the military's combat readiness and were not related to Ukraine, said Russian Defense Minister Sergei Shoigu.