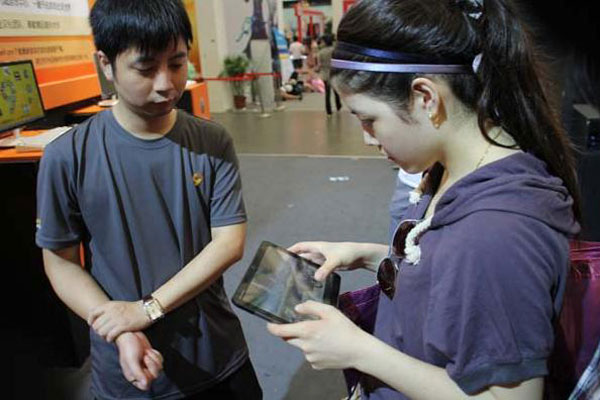 A woman playing an online game on a tablet PC as a man watches. Provided to China Daily  
Chinese online game producers earned $1.8 billion in overseas sales in 2013, a surge of nearly 220 percent year-on-year, Google Inc said on Friday.
The nation's video game exports are set to grow at high speed this year, fueled by increasing global popularity of mobile devices, according to the United States online search giant that was keen to introduce Chinese applications to the global stage in recent years.
The company declined to estimate this year's growth rate, saying there are too many variables that may affect the accuracy.
Brazil, Taiwan, the United States and Turkey were the top importers of online games developed on the Chinese mainland, Google said.
"Chinese app developers should try to enter Japanese and South Korean markets as their first global expansion step because of cultural similarity," said Deng Hui, manager of the big clients department at Google China.
"When the developers have sizable revenue in neighboring markets, it's time to explore further markets," Deng added.