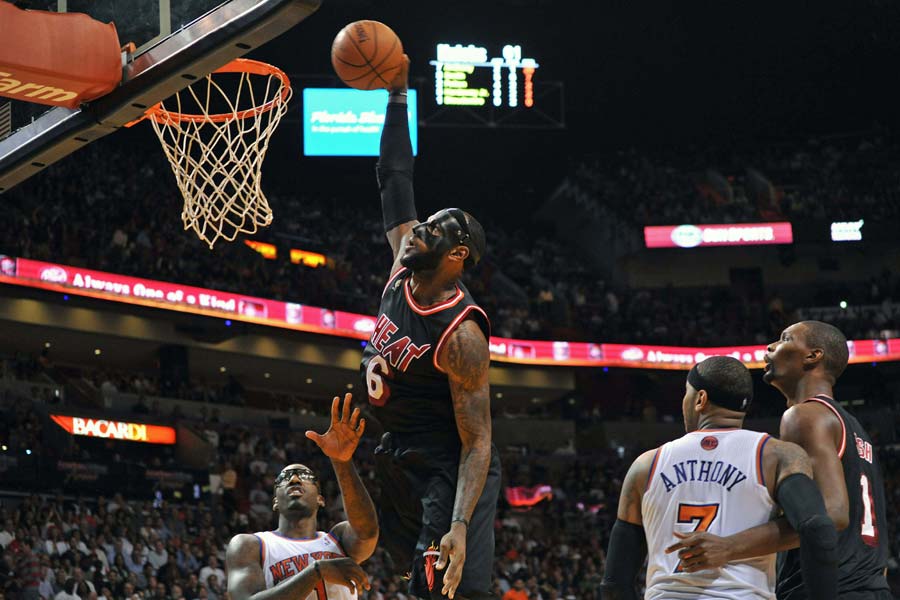 Miami Heat small forward LeBron James (6) dunks the ball past New York Knicks power forward Amar'e Stoudemire (1) during the second half at American Airlines Arena, Miami, Feb 27, 2014. [Photo/Agencies]
MIAMI - For LeBron James, the mask was distinctive.
So, too, was the outcome for the New York Knicks.
Playing with a dark carbon-fiber mask to protect his broken nose - a "menacing" look is how Heat coach Erik Spoelstra described it - James scored 31 points to help Miami beat the reeling Knicks 108-82 on Thursday night.
"I tried to put pressure on the defense, tried to make plays and I was happy to be back on the floor," said James, who missed one game because of the nose, which got broken on Feb.20 at Oklahoma City.
James made 13 of 19 shots and topped 30 points for his fifth consecutive outing. He said he plans to play with a mask for the next couple weeks, at least.
"As much as I don't like it, I have to figure out how to make it work," James said.
Dwyane Wade added 23 points, shooting 10 for 13 from the field. The Heat outscored New York 23-3 over the final 7:02 of the third and won their sixth straight.
The Heat shot 61 percent, while the Knicks shot 37 percent. No team shot better than 49 percent against Miami in 10 games during February, and none of the last four Heat opponents have shot better than 40 percent.
"Where we need it to be," Wade said. "That's how we win games."
Carmelo Anthony scored 29 points for New York, but none in the final 21:38. Tyson Chandler had 19 points and 16 rebounds, and J.R. Smith added 11 points for the Knicks, who fell to 2-10 in February.
"I don't know if we got defused or what," Anthony said. "We didn't bounce back."
Raymond Felton, in his first game since being arrested on gun charges, missed six of seven shots and scored only two points for the Knicks.
"No excuses," Felton said.
Norris Cole, Mario Chalmers and Ray Allen each scored 11 points for the Heat, who are 41-7 in February games over the last four seasons.