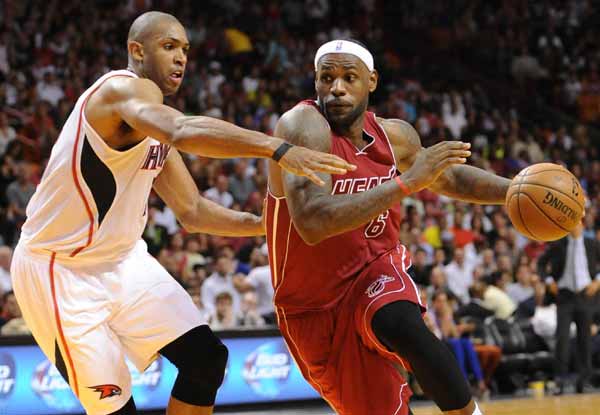 Miami Heat small forward LeBron James (6) drives to the basket as Atlanta Hawks center Al Horford (15) defends during the second half at American Airlines Arena Dec 23, 2013. The Heat won 121-119 in overtime. [Photo/Agencies]
WASHINGTON - LeBron James had 38 points on Monday to carry the Wade-less Miami Heat over the Atlanta Hawks 121-119 through overtime.
James had eight rebounds and six assists along with his 38 points.
The Heat started the game with a 13-0 spurt, but found themselves down by seven with 99 seconds left in the fourth quarter. James hit two three-pointers to get back the chance, and Ray Allen made three free-throws to get an overtime opportunity for the Heat.
The Heat went up by one point thanks to the two free-throws from Michael Beasley with nine seconds left. The Hawks were unable to score afterwards, allowing the Heat to get the fifth consecutive victory on home court.
Allen had 19 points for the Heat. Mario Chalmers and Chris Anderson added 12 points apiece.
Jeff Teague led the Hawks with 26 points. Paul Milsap and Al Horford had 25 and 21 points respectively.